Подача статей





Vlatskaya I.V., Tatzhibaeva O.A.
THE APPLICATION OF METHODS OF IMITATION SIMULATION IN REENGINEERING OF BUSINESS-PROCESSES
The authors examined the task of reengineering of business- processes in an example of the enterprise OOO "Orenburggeofizika". The model of enterprise on the basis of queueing theory is proposed. The authors carried out the imitation simulation of the system in the sphere Stratum 2000. According to the results of simulation they obtained the economic measures of the effectiveness of reengineering of the work of the redesigned system.
Key words:
reengineering, business-process, imitation simulation, queueing theory.
References:
1. Hammer M. Reinzhinring Corporation: The Manifesto of the revolution in business / M. Hammer, J. Ciampi. — SPb.: Publishing, St. Petersburg University, 1997. 332 s.
2. Popov E. Re-engineering business processes and information technology / E. Popov, M. Shappot. — M: UNITY, 1999. — 214 pp.
3. Borodatova M.V. Automation of modeling objects reengineering / M.V. Borodatova, A.V. Sherstuk. — SPb.: Izdatel'stvo St. Petersburg State University, 1999. — 287 pp.
4. Buslenko N. Modeling complex systems / NP Buslenko. — M.: Nauka, 1978. — 399 pp.: Ill.
5. Kaufman A. Bulk Service. Theory and applications / A. Coffman, R. Kryuon. — Moscow: Publishing House "Mir", 1965. — 124 pp.
6. Frese E. Restructuring of enterprises: the direction, goals, tools / E. Frese, L. Toyfsek, T. Biken, M. Engels, P. Lehmann // Problems of theory and practice of management. — 2001. — №7. — S. 116-123.
7. Havranek P.M. Guidelines for the preparation of industrial feasibility studies / B. Behrens, P.M. Havranek. — Moscow: JSC "Interekspert, 1995. — 342.
About this article
Authors:

Vlatskaya I.V., Tatzhibaeva O.A.



Year:

2010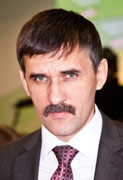 Editor-in-chief
Sergey Aleksandrovich
MIROSHNIKOV