Подача статей





Lebedev S.V., Rodionova G.B.
ЕCOLOGICAL EVALUATION OF VEGETATIVE RAW MATERIAL AND FOODSTUFF IN DIFFERENT NATURE AND CLIMATE ZONES OF ORENBURG REGION
The article presents the results of long-term screening research aimed at study of nutritive value and environmental safety of raw material and foodstuff in different nature and climate zones of Orenburg region. On the basis of the carried out research there have been established a database of environment objects, raw materials and foodstuff according to content of heavy metals in geochemical formations of Orenburg region.
Key words:
ecology, produce, biosubstratum, chemical elements.
References:
1. Beliaev EN, Belyakov VD The concept of sanitary and epidemiological surveillance and environmental health division. / / Regional health management problems in Russia. Ed. ed. VD Belyakov. — M.: Intersen, 1996. — C.16-25.
2. Aghajanian, NA, Bykov AT, Konovalov GM Adaptation, the ecology has and restoring health. Moscow-Krasnodar, 2003. — 260 pp.
3. March. Babenko GA Trace elements in experimental and clinical medicine-tion. — Kiev: Health, 2002. — 183 pp.
4. Boev VM Hygienic characteristics of the influence of anthropogenic and natural geochemical factors on the health of the population of the Southern Urals / / Hygiene and Sanitation. — 1998.– №6. — S. 3-8.
5. Rocky A. Microelementosis Rights: Hygienic diagnosis and correction. / / Trace elements in medicine, 2000. — Volume 1. C.2-8.
6. Modern methods of analysis and equipment in sanitary-hygienic studies. Ed. GG Onishchenko, NV Six, half of trading. — Moscow: Federal State Unitary Enterprise "Intersen", 1999. — 496 pp.
7. Spirichev VB Provision of vitamins for children in Russia, "Vopr. nutrition. — 1996. — №5. — P.45-53.
8. Anke M.K. Transfer of macro, trace and ultratrace elements in the food chain / / Elements and their compounds in the environment. Occurrence, analisys and biological relevance. 2nd ed. Eds.: Merian E., Anke M.. Ihnat M., Stoeppler. — Wiley-VCH Verlag GmbH, 2004. — P.101-of 126.
About this article
Authors:

Lebedev S.V., Rodionova G.B.



Year:

2010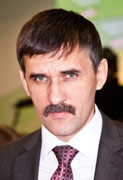 Editor-in-chief
Sergey Aleksandrovich
MIROSHNIKOV