Подача статей





Kanyigina O.N., Chetverikova A.G., Lazarev D.A., Salnikova E.V.
HIGH-TEMPERATURE PHASE TRANSFORMATION IN IRON-BEARING CLAY OF ORENBURG REGION
The authors defines chemical, phase composition of brick clay and montmorillonite clay. The article examines physical-chemical processes which determine phase transformation of clay during clay sintering. Authors define effect of amount of energy produced by ceramic mixture on formation of phase composition of ceramics.
Key words:
clays, phase transformation, ceramics, sintering.
References:
1. Staroverov V.N. The facial model of formation of clay layers akchagyla at southeast of Russian plate. / V.N. Staroverov, A.D. Savko // Vestn. Voronezh. universiteta. Geologiya. 2004. — №1: Litologiya, paleontologiya, stratigrafiya.
2. Kanygina O.N., The modelling of evolution of Orenburzhye clay structure at thermal processes./ O.N. Kanygina, A.G. Chetverikova, A.H. Kuleeva, I.N. Anisina, E.V. Volkov, V.Yu. Semchenko, M.M. Paukov, D.A. Lazarev // The material of VIII All-Russian scientific and practical conference "The current information technology at science, education and practice". Orenburg, 25-27 of November. — Orenburg, IPK GOU OGU.– 2009.-P.264-269.
3. Kreshkov A.P. The fundamental analytical chemistry. — M.: Himiya, 1976. V.2: The theory. The quantitative analysis. 1976. — 480 p.
4. Rusakov A.A. The metal roentgenography.-М.: Metallurgiya, 1977.-420 p.
5. Тihi О. Ceramic sintering.-М.: Stroyizdat, 1988.– 346 p.
6. Pavlov V.F. The physicochemical fundamentals of sintering of building ceramics products.-М.: Stroiizdat, 1977.– 240 p.
7. Gorshkov V.S., Saveliev V.G., Fedorov N.F. The physical chemistry of silicates and other refractory phases.– М.: Vysshaya shkola,1988.– 400 p.
8. Levitskii I.A. Structure formation of vitrified ceramic of house hold duty/ I.A. Levitskii, Yu.A. Klimosh //Glass-ceramics.– 2005.– №6.– P. 32-36
9. Golovanov S. P. Using of iron-containing clays for bleaching and intensification of ceramic sintering/ S.P. Golovanov, A.P. Zubekhin, O.V. Likhota //Glass-ceramics.– 2004.– №12.– P. 9-11.
About this article
Authors:

Kanygina O.N., Chetverikova A.G., Lazarev D.A., Salnikova E.V.



Year:

2010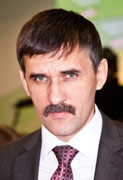 Editor-in-chief
Sergey Aleksandrovich
MIROSHNIKOV