Подача статей





Miroshnikov S.A., Kvan O.V., Nurzhanov B.S.
ROLE OF NORMAL MICROFLORA IN MINERAL TURNOVER OF ANIMALS
The article presents results of research over effect of probiotic medication on mineral turnover of animals. In the course of investigation it has been discovered that different probiotic medications have controversial influence on the volume of endogenic losses of mineral elements, e.g., bifid bacterium showed ability to reduce losses of mineral elements from organisms of rats and birds to a minimum.
Key words:
probiotic, mineral turnover, normal microflora, endogenic losses.
References:
1. VNITIP the Management on work with a bird of cross-country "Rhodonite" // I.A.Egorov, I.P.Krivoshipin, A.S.Kavtarashvilli, etc. under the general red. V.I.Fisinina, N.N.Shabetova. — Sergiev Pasad, 1998. — 39с.
2. Levakhin V.I., Levakhin G.I., Miroshnikov S.A. Correction of a design procedure of conversion of energy of a forage // the Bulletin of Russian Academy of Agrarian Sciences. — 1999. — №.2 — С.65-66.
3. Poryadkov L.F. Base's orders of model for studying problems of artificial feeding in experiment. М.: scientific research institute of first aid by it. N.V.Sklifosofskogo, 2001.– С.103-131.
4. Fisinin V.I., Baykovskaya E.Y. Problem of weakness of finitenesses at chickens of meat cross-countries // Agricultural biology. — 1995. — №6. — С.12.
5. Shenderov B.A., Manvelova M.A., Stepanchuk Y.B., Skiba N.E. Probiotic and a functional feed // Antibiotics and chemotherapy. — 1997. — Vyp. 42. — №7. — С.30-34.
About this article
Authors:

Miroshnikov S.A., Kvan O.V., Nurzhanov B.S.



Year:

2010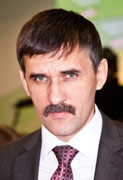 Editor-in-chief
Sergey Aleksandrovich
MIROSHNIKOV