Подача статей





Miroshnikov S.A., Kvan O.V., Nurzhanov B.S.
ROLE OF NORMAL MICROFLORA IN MINERAL TURNOVER OF ANIMALS [№ 6 ' 2010]
The article presents results of research over effect of probiotic medication on mineral turnover of animals. In the course of investigation it has been discovered that different probiotic medications have controversial influence on the volume of endogenic losses of mineral elements, e.g., bifid bacterium showed ability to reduce losses of mineral elements from organisms of rats and birds to a minimum.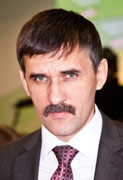 Editor-in-chief
Sergey Aleksandrovich
MIROSHNIKOV