Подача статей





Alekhina G.P., Loginova E.G., Misetov I.A.
IMMUNOLOGIC REACTION OF FRESHWATER BIVALVES FOR ADVERSE ENVIRONMENT EFFECT
The authors study effect of anthropogenic load of different degree of a basin on rate of immune response by freshwater bivalves. It has been determined that immunologic activity of bivalves directly depends on pollution of observable points: the higher pollution level, the higher immune response of the bivalves.
Key words:
bivalves, immune response, pollution of a basin.
References:
1. The basin of the Urals. Iriklinskaya reservoir. / Gosydarstvennyy doklad o sostoyanii okruzhayushchey prirodnoy sredy Orenburgskoi oblasti v 2008g. / Pravitelstvo Orenburgskoi oblasti. — Orenburg. 2009. — p. 26-33.
2. Alimov A.F. On the possible role of animals in the processes of self-purification filter water / Mollyuski i ikh rol v biotsenozakh i formirovanii faun. — L.: Nauka, 1967. — p. 305-312.
3. Yakovleva N.V., Samoilovich M.P., Gorbushin A.M. Variety of strategies for protection against pathogens in molluscs// Zhurn. evol. biokhim. i fiziol. — 2001. — T. 37 (4). — p. 358-367.
4. Zhadin, V.I. Freshwater Mussels waters of the USSR [Text] / V. I. Zhadin. — M., L.: Izd-vo AN SSSR, 1952.-450p. — SBN 5-56-568492-0.
5. Shkorbatov G.L. Methods for studying bivalves.-.L. : Zoologicheskiy institut, AN SSSR, 1990. — 205p.
6. Mashkin P. B. Method of determining the populations of bivalves for network monitoring of aquatic ecosystems / P.V. Mashkin. — Pushchino. : ONTI PNTs, 1999 — 45p.
7. Melekhova O.P., Sarapultseva E.I., Evseeva T.I. i dr. Biological control of the environment: bioindication and bioassay. / — 2– e. isd., isprav. -M. : Izdatelskiy tsentr "Academiya", 2008.– 288p.
About this article
Authors:

Alehina G.P., Loginova E.G., Misetov I.A.



Year:

2010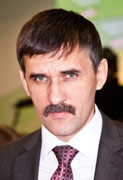 Editor-in-chief
Sergey Aleksandrovich
MIROSHNIKOV