Подача статей





Minyaeva N.M.
HUMANITARIAN PEDAGOGICAL TECHNOLOGIES OF RESOURCE ACTUALIZATION OF STUDENT'S SELF-EDUCATIONAL ACTIVITY
In this article characteristic of the process of resource actualization of self-educational activity is presented in the context of learning theory according to general didactic categories (aim of study, principals, content, methods, means, forms, results). Rating-modular technology is distinguished among general humanitarian pedagogical technologies of study. Critical appraisal of its general positions is conducted. Its heuristic potential at resource actualization of student's self-educational activity is revealed in this article.
Key words:
knowledge, self-educational activity, resource of self-educational activity, actualization of resource of self-educational activity, humanitarian pedagogical technologies, rating-modular technology.
References:
1. Batishev, S.Ya. Bloc-module training / S.Ya. Batishev. – M.: Publishing-house "Transservice", 1997. – 256 с.
2. Bloc-module instruction in the professional education: Educational benefit / A.V. Druzhkin, E.V. Berdnova, V.P.Korsunov and others. – Saratov: Publishing-house of the Saratov's university, 2001. – 72 с.
3. Popov, Yu. Reiting's system / Yu. Popov, V. Podlesnov // Higher education in Russia, – 2001. – №4. – С. 130-137.
4. Slastenin, V.A. Humanitarian culture of specialist / V.A. Slastenin // Magister: – 1991. – №1. – С. 21-25.
5. Phrolov, N. Credit-reitings' system: experience TulGU / N, Phrolov, V. Zhigunov // Higher education in Russia, – 2006.– №5. – С. 8-11.
About this article
Author:

Minyaeva N.M.



Year:

2010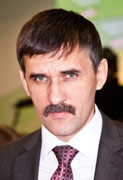 Editor-in-chief
Sergey Aleksandrovich
MIROSHNIKOV