Подача статей





Rusanov A.M., Konjukhov A.V.
ECOLOGICAL ASPECTS OF INTEGRAL INFLUENCE OF SURROUNDINGS ON EPIDEMIOLOGICAL SITUATION OF IODINE DEFICIT ON THE EXAMPLE OF ORENBURG REGION
In this work the author at the first time conducts integral appraisal of surroundings factors influence on epidemiological situation of iodine deficit in agroindustrial region with using of modern calculated-balance method and data of biological monitoring and express microanalysis.
Key words:
ecology, iodine deficiency.
References:
1. Andryuk B.G. / / Health. Med. ecology. Science. - 2003. - № 3-4. - S. 24-26.
2. Burago V.A., Burago T.V. Statistical methods for medical and environmental mapping. - Vladivostok, 2003.
3. Kiku P.F., Geltser B.I. Environmental health problems. - Vladivostok, 2004.
4. World Health Organization. Iodine and Health: Eliminating Iodine Deficiency Disorders Safely through Salt Iodazation. WHO, Geneva, 1994.
5. WHO Assessment of Iodine Deficiency Disorders and Monitoring their Elimination, Geneva, 2001.
About this article
Authors:

Konyuhov A.V., Rusanov A.M.



Year:

2009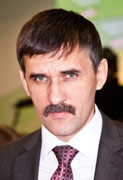 Editor-in-chief
Sergey Aleksandrovich
MIROSHNIKOV