Подача статей





Konyukhov V.A., Makarov T.M., Nasteka N.L., Konyukhov A.V., Mukhamedzhanova Yu.Kh., Shcherbakov S.Yu., Avdeeva I.A.
SYSTEMATIC APPROACH TO THE COMPLEX ECOLOGOHYGIENIC ESTIMATION OF IODINE DEFICIT IN POPULATION AT THE REGIONAL LEVEL [№ 12 ' 2010]
The authors examined the methodological aspects of development and introduction of systematic approach to the estimation of iodine deficit in the agroindustrial region, acceptable both for the current evaluations, including for purposes of the verification of the results of prenosological hygienic diagnostics and for predicting the distant consequences of iodine deficit . They represented the experience of its practical application in Orenburg region for the mortality study of population from the malignant new formations of the thyroid gland.
Rusanov A.M., Konjukhov A.V.
ECOLOGICAL ASPECTS OF INTEGRAL INFLUENCE OF SURROUNDINGS ON EPIDEMIOLOGICAL SITUATION OF IODINE DEFICIT ON THE EXAMPLE OF ORENBURG REGION [№ 12 ' 2009]
In this work the author at the first time conducts integral appraisal of surroundings factors influence on epidemiological situation of iodine deficit in agroindustrial region with using of modern calculated-balance method and data of biological monitoring and express microanalysis.
Vakoulyuk V.M., Konyukhov V.A., Makarova T.M., Broudastov Yu.A., Nasteka N.L., Konyukhov A.V., Dolgikh E.V., Dmitrieva L.A., Moukhamedzhanova Yu.H.
UNIVERSITY MODEL OF SOCIAL-HYGIENIC MONITORING (SHM) OF STUDENT AND EMPLOYEE HEALTH [№ 12 ' 2006]
Methodological aspects of university model development and justification of unified methodical scheme of social-hygienic monitoring of health of students and employees of multi-field university are considered. Organizational, structural and functional flow charts of monitoring implementation are presented.
Konyukhov A.V.
STUDY OF REGIONAL STRUCTURE OF BIOLOGICAL RESPONSE OF POPULATION TO IODINE SHORTAGE AND JUSTIFICATION OF NEW CRITERIA IN SEMIOTICS OF HYGIENIC DIAGNOSTICS [№ 12 ' 2006]
The developed methodic scheme of study of regional structure of population's biological response to iodine shortage is presented. New criteria in semiotics of hygienic diagnostics on the basis of calculated regularities of population's biological response are justified. Key words: regional structure of biological response, iodine shortage.
Konyukhov V.A.
METHODIC APPROACHES TO EXPRESS ECOLOGICAL-HYGIENIC DIAGNOSTICS IN MINIMIZATION OF ENVIRONMENTAL RISKS OF HAZARDOUS ELECTROMAGNETIC IMPACT [№ 12 ' 2006]
Theoretic justification of basic concepts of electromagnetic ecology is given, and developed methodic approaches on express ecological-hygienic diagnostics, first results of approbation in the Orenburg State University conditions are presented on this basis.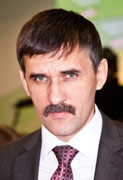 Editor-in-chief
Sergey Aleksandrovich
MIROSHNIKOV