Подача статей





Chernova O.A.
BACKBONE PRINCIPALS OF FORMING OF INNOVATION REGIONAL DEVELOPMENT STRATEGY
The lacks of existing methodology of planning of innovational development of regions leaded to the development of intraregional disproportion are analyzed in this article. It is noted that the regional development is realized exclusively in frames of branch approach ignoring the tasks of spatial development. The author suggests principals guaranteeing the forming of conditions for system-constructive activity of regional economic subjects.
Key words:
regional strategy, branch approach, principals of development, innovation processes, innovation resources
References:
1. Bir S. Cybernetics and management. Translation from English. - Publishing house "URSS", 2006.
2. K. Marks, F. Engels. Work of second edition - Vol. 25. Part 1.
3. Aralbaeva F.Z. Forming of management solutions of regional steady development guarantee as totality of local territorial-economic systems // Regional economy. - №21(78) - 2008.
4. Danilova T.N., Grishchenko V.A. Approaches to the appraisal of innovation potential of the region // Economic analysis: theory and practice - №17(98) - 2007.
5. Regularities and problems of functioning and development of regional economy: theoretical and applied aspects of research / Ed. of the professor S.Yu. Avakov. Taganrog: Publishing house TIUiE, 2004.
6. Leksin V., Karacharovsky V. The reasons and consequences of superconcentration of economic and social potential in Russia and its big cities // Russian economic magazine. №1-2. - 2007.
About this article
Author:

Chernova O.A.



Year:

2009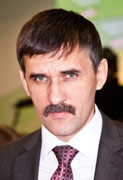 Editor-in-chief
Sergey Aleksandrovich
MIROSHNIKOV