Подача статей





Kozyminykh V.O., Mukovoz P.P., Kirillova E.A.
1,3,4,6- TETRACARBONYL SYSTEMS. REPORT 9. DIETHYLKETYPINATE: SYNTHESIS, STRUCTURE AND INTERACTION WITH 1,2- DIAMINOBENZENE
By Claisen condensation of ethyl acetate with oxalic ester and sodium hydride (or sodium) with follow-up influence of hydrochloric acid on intermediate sodium-dienolate, diethyl ether of (2Z,4Z)-3,4- dihydroxy -2,4- hexadiene -1,6-acid (diethyl -3,4-dioxo hexanedioate or diethylketypinate) was obtained. The report discusses the structure synthesized ester based on IR and NMR spectroscopy. Interaction of diethylketypinate with 1,2- diaminobenzene.
About this article
Authors:

Kozminyh V.O., Mukovoz P.P., Kirillova E.A.



Year:

2009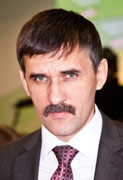 Editor-in-chief
Sergey Aleksandrovich
MIROSHNIKOV