Подача статей





Tarasenko S.S., Vladimirov N.P.
INFLUENCE OF FINE FRACTION OF WHEAT GRAIN TO EFFECTIVENESS OF BREAK PROCESS [№ 9 ' 2014]
For the purpose of rational use of grain durum wheat was conducted research technological characteristics of different fractions of wheat grain size, as well as the effect of fines on the effectiveness of ragged process. Based on the studies presented recommendations for the selection of fines to increase grain output white flour.
Tarasenko S.S., Vladimirov N.P.
RESEARCH OF RHEOLOGICAL PROPERTIES OF DURUM WHEAT MILLING PRODUCTS [№ 6 ' 2011]
In view of rational use of durum wheat grain, we studied the rheological properties of grain milling products with different sizes. The possibility of combining of large and small products in order to increase the yield of flour, without reducing the quality of pasta products was revealed.
Nikiforova T.A., Raguzina L.M., Vladimirov N.P.
POSSIBLE WAYS OF RATIONAL USE OF MILLET FACTORY`S WASTE PRODUCTS [№ 5 ' 2003]
For a scientific substantiation of rational use of waste products of millet factory the basic parameters of a chemical compound of millet flour were investigated. The carried out researches show the expediency of use of millet flour in microbiological, food and feed mill industry.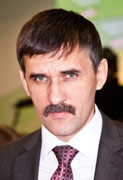 Editor-in-chief
Sergey Aleksandrovich
MIROSHNIKOV