Подача статей





Proskurin G.A.
STREET ROAD NETWORK IMPROVEMENT IN ORENBURG [№ 5 ' 2014]
The basic principles of the device and reconstruction of streets are enshrined in article at the present stage, and also offers on increase of capacity of streets and, at the same time, comfort of street space due to expansion of types of its use are given. The separate attention is paid to the concept put in a basis of development of the site planning of the main Stepan Razin Street — Orlova in Orenburg.
Proskurin A.D., Kozik E.S., Schikochihina L.N.
INCREASE OF PHYSICOMECHANICAL PROPERTIES OF IS LOW-CARBONACEOUS STEELS BY MEANS OF WELDING WEARPROOF COVERINGS [№ 10 ' 2011]
Research on increase of physico-mechanical properties low-carbonaceous steels with the help welding wearproof coverings, by addition in itself a gumboil firm alloy PG-10Н-01 of various additives (carbide of a pine forest, carbide of the titan) is conducted. The optimum structure of additives and their property is received.
Proskurin G.A.
MODERN PRINCIPLES OF BUILDING CONSTRUCTION [№ 9 ' 2011]
The article provides basic trends in the development of space-planning characteristics of industrial buildings. These trends clarify understanding of the final model of reconstruction, rehabilitation and renovation of industrial facilities and were the basis for the nomination by the author the modern principles of construction of industrial buildings.
Bogodukhov S.I., Proskurin A.D., Severyukhina N.A.
DESIGN OF EXPERT SYSTEM FOR PRODUCTS MADE OF POWDER LOW ALLOY STEEL [№ 1 ' 2011]
To obtain the predictions based on analysis of data the complex decision support is used, including expert system shell and knowledge base, providing on-line decision-making on the basis of concentration of knowledge at the present time.
Proskurina N.S.
SYSTEM OF AGRICULTURAL LOAN IN RUSSIA: STATE REGULATION [№ 13 ' 2010]
This paper addresses the problem of the role of state regulation of the system of agricultural Loan in Russia, analyses the present forms of state support to agricultural enterprises in Russia, reveals their disadvantages and drawbacks. It is suggested to expand subsidies among all agricultural producers, simplify the Loan mechanism and facilitate the access to the bank loans.
Bogoduhov S.I., Sheinin B.M.
THERMOWORKING OF POWDER STEELS. [№ 5 ' 2004]
Questions of thermic working of powder steels with the use of speed heat in melting of salts and TVCh are viewed in the article.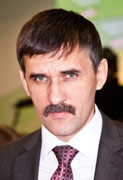 Editor-in-chief
Sergey Aleksandrovich
MIROSHNIKOV