Подача статей





Proskurin G.A.
STREET ROAD NETWORK IMPROVEMENT IN ORENBURG
The basic principles of the device and reconstruction of streets are enshrined in article at the present stage, and also offers on increase of capacity of streets and, at the same time, comfort of street space due to expansion of types of its use are given. The separate attention is paid to the concept put in a basis of development of the site planning of the main Stepan Razin Street — Orlova in Orenburg.
Key words:
street road network; reconstruction; site planning; street capacity; main street.
References:
1. General Plan of the City of Orenburg: Materials on Project Justification [Тext]. — Moscow: GIPROGOR, 2008. — 93p.
2. Urban Planning. Planning and construction of city and rural settlements [Тext]: set of rules SP 42.13330.2011. — Moscow: OJSC "CPP". — 109 p.
3. Mikhailov, A.Y. Modern tendencies of design and reconstruction of city street road networks [Text]./ A.Y. Mikhailov, I.M. Golovnykh. — Novosibirsk: Nauka, 2004. — 267 p.
4. Regional Standards of Town-Planning Design of Orenburg Region [Text]: annex to the resolution of the government of the Orenburg Region of March 11 2008. №98-p. — Orenburg, 2008: — 80 p.
5. Fitzpatrick, K. Design Factors That Affect Driver Speed on Suburban Arterials [Тext] / K. Fitzpatrick, P. Carlson, M. Brewer, M. Wooldridge //Transportation Research Record. — 2001. — №1751. — P. 18-25.
6. Traffic Design [Тext] / P. Tumminelli. — Cologne-London-New York: Ralph Daab, 2006. — 400 p. ISBN 978-3-937718-67-5
7. Urban Street Design Guide [Тext] / National Association of City Transportation Officials. — Washington-Covelo-London: Island Press, 2013. — 180 p.
About this article
Author:

Proskurin G.A.



Year:

2014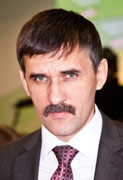 Editor-in-chief
Sergey Aleksandrovich
MIROSHNIKOV