Подача статей





Bogodukhov S.I., Proskurin A.D., Severyukhina N.A.
DESIGN OF EXPERT SYSTEM FOR PRODUCTS MADE OF POWDER LOW ALLOY STEEL
To obtain the predictions based on analysis of data the complex decision support is used, including expert system shell and knowledge base, providing on-line decision-making on the basis of concentration of knowledge at the present time.
Key words:
powder metallurgy, expert system, knowledge base, mathematical statistics, regression, factor and cluster analysis.
References:
1. Safonov V.O. Expert systems — intellectual assistants to experts — SPb: the St. — Petersburg organization of a society of "Knowledge" of Russia, 2002.
2. Optimization of processes of thermal processing of powder steels//Program №2008614187 demand №208612544. Nepsha A.A., Severjuhina N.A.
3. Borovikov V. P//STATISTICA: Art of the analysis of the data on the computer. For professionals. — SPb.: Peter, 2001. — With. 656.
4. A.A.concept's sugars of construction and realization of the information sis data focused on the analysis//Control systems of databases, 2002, N4, With. 55-70.
5. Vertinsky N.D.mathematical modeling of multiple-factor and multi-parametrical processes in multicomponent systems. — Irkutsk: Publishing house Ir-GtU, 2000. — With. 286.
6. Influence of composition and processing mode on the physical and mechanical properties of powder materials / Bogodukhov SI, Nguen HL, Severyukhina NA / / Journal of science and technology technical universities. — Hanoi: HUT, 2009. — ISSN 0868-3980. 2009, # 72, P. 48-51.
About this article
Authors:

Bogoduhov S.I., Severyuhina N.A., Proskurin A.D.



Year:

2011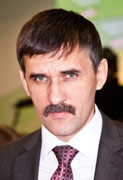 Editor-in-chief
Sergey Aleksandrovich
MIROSHNIKOV