Подача статей





Pasechnikova L.V., Nesterenko M.V.
BUSINESS TECHNOLOGY IN THE FINANCIAL-ECONOMIC ACTIVITY OF CEMENT INDUSTRY [№ 5 ' 2013]
The possibility of implementing the Balanced Scorecard in the activities of the cement industry in order to increase the efficiency of the business. With the concept of the Balanced Scorecard implementation allowed the issue of control of strategic decisions in the financial and economic activities of enterprises.
Pasechnikova L.V., Pankova S.V., Afanasjev V.N.
THE STATE OF THE MARKET OF PLASTIC WINDOWS AND COMPETITIVE ADVANTAGES OF FIRMS OF THE EAST OF ORENBURG REGION [№ 2 ' 2012]
The market of plastic Windows refers to a dynamically developing and sufficiently capacious markets. It attracts numerous competitors and strengthens the competitive confrontation firms. The article presents the results of research of the market of the East of Orenburg region. On the basis of the author's model positioned services provided recommendations on the formation of competitive advantages of firms in the market of plastic Windows.
Pasechnikova L.V., Pankova S.V., Afanasyev V.N.
THEORETICAL ASPECTS OF MARKETING MANAGEMENT IN THE AREA OF SERVICES [№ 1 ' 2012]
The authors consider marketing management as a type of management, reveal marketing management system content , expose features of systematic approach in the marketing management of the organization, the conceptual content of the marketing management in the area of service.
Frolova I.M., Pasechnikova L.V.
THE CONCEPT OF EFFICIENT CONTROL COMPETITIVENESS OF THE ORGANIZATIONS [№ 13 ' 2011]
It is defined that the attention lack to a question of increase of competitiveness of the organization at the present stage of development of economic relations, leads to the raised crisis vulnerability of the company that, first of all, is expressed in easing of some its market positions. Within the limits of formation of the concept of efficient control by competitiveness of the organizations use of the information factor is offered. It is proved that the competitive business subject can not possess competitive advantages if has no the results exceeding results of the competitor. The purposes of management by competitiveness the organizations structured by criteria of their achievement are described. The special principles taken as a principle of an estimation of potential of competitiveness of the organization are developed.
Pasechnikova L.V.
CONDITION AND TENDENCIES OF DEVELOPMENT OF THE PAID SERVICES MARKET TO THE POPULATION OF THE ORENBURG REGION [№ 4 ' 2005]
The tendency of a role increase of tertiary sector is characteristic both for world economic processes, and for modern Russia. In the clause the condition and the features of development of human services in the Orenburg region are investigated, constraining and stimulating factors are determined. Since 2001 in the region there were favorable conditions for development of sphere of paid services to the population.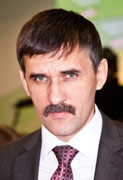 Editor-in-chief
Sergey Aleksandrovich
MIROSHNIKOV