Подача статей





Luzhnova N.V.
THE ROLE OF ADVERTISING IN A SYSTEM OF INTEGRATED MARKETING COMMUNICATIONS [№ 13 ' 2010]
The essence and structure of integrated marketing communications. The role of advertising in this system. Investigated approaches to the definition of "advertisement". Presented by the author's view on the nature of commercial advertising.
Melnikova T.F., Kashchenko E.G., Luzhnova N.V., Mikhailova O.P.
THE EFFECTIVENESS OF SOCIAL ADVERTISING [№ 13 ' 2010]
The paper discusses the definition, nature, history and topics of social advertising. Studied the nature and criteria of the concept of "reklamosposobnost". The analysis of the effectiveness of social advertising based on marketing research.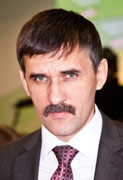 Editor-in-chief
Sergey Aleksandrovich
MIROSHNIKOV