Подача статей





Arkaev M.A., Stolpovsky G.A., Lisov S.V., Sergeev M.I.
WAYS OF STRENGTHENING OF THE ROD WOODEN DESIGNS OF OPERATED BUILDINGS AND CONSTRUCTIONS [№ 5 ' 2013]
Ways of strengthening of rod wooden designs of buildings and the constructions being in a mode of operation are given. Features of application of various ways of strengthening taking into account an assessment of their efficiency are specified. The review of the connecting elements used at strengthening, and as options of strengthening of wooden designs with use of highly effective and technological types of communications is submitted.
Gorelov S.N., Zhadanov V.I., Arkaev M.A.
RESULTS OF NUMERICAL RESEARCHES OF THE GUY PESHEKHODNY BRIDGE THROUGH THE RIVER URALS [№ 9 ' 2012]
Results of numerical researches intense the deformed condition of the guy foot bridge through the Ural River by means of the program APM WinMachine complex are given. Features of the VAT of the basic bearing elements are investigated. The technique of carrying out numerical researches of similar guy designs is given. Possibility of change of settlement loads of a bridge construction is considered.
Zhadanov V.I., Arkaev M.A., Lisov S.V., Stolpovsky G.A.
ESTIMATION OF THE INTENSE-DEFORMED CONDITION OF CONNECTIONS OF WOODEN DESIGNS ON TWISTED CORES BY MEANS OF NUMERICAL METHODS [№ 4 ' 2012]
We represented results of numerical researches of the intense-deformed condition of connections of wooden designs with application of new type of twisted cores with cross-shaped section with the help of program APM WinMachine. We studied the intense-deformed condition of these connections with twisted cores working to a wrest. Comparison of the received results with the data of experimental researches is spent.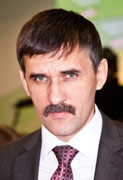 Editor-in-chief
Sergey Aleksandrovich
MIROSHNIKOV