Подача статей





Arkaev M.A., Stolpovsky G.A., Lisov S.V., Sergeev M.I.
WAYS OF STRENGTHENING OF THE ROD WOODEN DESIGNS OF OPERATED BUILDINGS AND CONSTRUCTIONS
Ways of strengthening of rod wooden designs of buildings and the constructions being in a mode of operation are given. Features of application of various ways of strengthening taking into account an assessment of their efficiency are specified. The review of the connecting elements used at strengthening, and as options of strengthening of wooden designs with use of highly effective and technological types of communications is submitted.
Key words:
rod designs, wood, strengthening, operated buildings, connecting element, twisted cores.
References:
1. Zhadanov, V. I. Industrial designs for construction of low buildings and constructions / V. I. Zhadanov, V. P. Abovsky, L. V. Endzhiyevsky. — Publishing and printing complex Orenburg State University, 2009. — 416 p.
2. Stolpovsky G. A., Zhadanov V. I. Rudnev I. V. Connection of elements of wooden designs of fast-erected buildings and constructions twisted crosswise nogs / G. A. Stolpovsky, V. I. Zhadanov, I. V. Rudnev // Vestnik OSU. — 2010. — P. 150–154.
3. Garipov V. S., Zhadanov V. I. Stolpovsky G. A. Application of methods of planning of experiment by search of optimum parameters of the screw core influencing effort of its wrest from the massif of wood / V. S. Garipov, V. I. Zhadanov, G. A. Stolpovsky // Izv. vuzov. Construction. — 2011. — № 2. — Р. 109–116.
About this article
Authors:

Shmelev K.V., Stolpovskiy G.A., Arkaev M.A., Sergeev M.I.



Year:

2013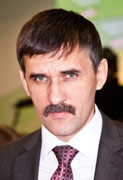 Editor-in-chief
Sergey Aleksandrovich
MIROSHNIKOV