Подача статей





Zhadanov V.I., Arkaev M.A., Lisov S.V., Stolpovsky G.A.
ESTIMATION OF THE INTENSE-DEFORMED CONDITION OF CONNECTIONS OF WOODEN DESIGNS ON TWISTED CORES BY MEANS OF NUMERICAL METHODS
We represented results of numerical researches of the intense-deformed condition of connections of wooden designs with application of new type of twisted cores with cross-shaped section with the help of program APM WinMachine. We studied the intense-deformed condition of these connections with twisted cores working to a wrest. Comparison of the received results with the data of experimental researches is spent.
Key words:
twisted cores, the numerical researches, the intense-deformed condition, settlement effort, a design procedure.
References:
1. Russian Federation Patent on the invention №2353830. IPC F16B 13/00. Wooden junction of building constructions / Dmitriev P.A., Shvedov V.N., Stolpovskiy G.A., Ukrainchenko D.A. // Publ. 27.04.2009. Bull.12 — 6 pages.
2. Program complex CAD/CAE of System APM VinMachine. The license agreement №24201 from 07.05.2011. ID 1782231818. 1 electronic optical disk (DVD — ROM).
3. Dmitriev P.A, Zhadanov V.I., Stolpovsky G.A. Connections of elements of wooden designs on the steel screw crosswise cores working on wrest// High School's Izvestiya. Building. 2010. №4. 133-137 pages.
About this article
Authors:

Stolpovskiy G.A., Zhadanov V.I., Arkaev M.A., Lisov S.V.



Year:

2012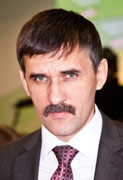 Editor-in-chief
Sergey Aleksandrovich
MIROSHNIKOV