Подача статей





Yamalov S.M., Tania I.V., Hasanov G.R., Lebedev M.V.
TWO ASSOCIATION OF HERBACEOUS PLANT COMMUNITIES IN RIZA RELIC NATIONAL PARK (REPUBLIC OF ABKHAZIA)
Subalpine meadows communities are widespread in at an altitude of 1600–2400 m above sea level in the Riza relic national park (RRNP), traditionally used as a pasture. Most of them are disturbed in a varying degree, and partially transformed to ruderal communities. So these are highly significant in nature conservation and recreation. Authors set the object to characterize two associations of meadows in RRNP. The dataset is 10 releves executed by authors in the field season of 2013–2015. Participation of species in a vegetation was estimated on Braun-Blanquet scale. For processing of releves the software packages of TURBOVEG and JUICE are used. According to syntaxonomy analysis result communities were attributed to Potentillo ruprechtii-Campanuletum tridentatae association (Hyalopoetalia ponticae Onipchenko 2002, Salicetea herbaceae Br.-Bl. 1948) and Gentiano dshimilensi-Sibbaldietum semiglabrae association (Nardetalia Oberd. ex Preising 1949, Calluno-Ulicetea Br.-Bl. et Tx. ex Klika et Hadač 1944). The first one combine low-herbage alpine meadows of low alpine belt. These are chacterized by significant snow accumulation in winter, short vegetation period and located on south slopes of mountains. The second one combine subalpine meadows communities on poor rocky soils (above 15 % of substratum rockiness). These are located on moderatly steeep north and north-west slopes. There are rare and conservation needed species in floristic composition of association: Traunsteinera sphaerica (Red book of Russian Federation included), Potentilla ruprechtii, Cystopteris fragilis, Coeloglossum viride (Red book of Krasnodar district). Communities have high nature conservation importance because of its small distribution area in RRNP and lack of sufficient protection at the present time.
Key words:
subalpine meadows, syntaxonomy, Riza relic national park, Republic of Abkhazia.
References:
1. Albov, N.M. A botanical research report / N.M. Albov // Zap. Kavko. Dep. IRGS. — Vol. XV. — Tbilisi, 1895. — P. 166–187.
2. Adzinba, Z.I. Ritsa relic national park / Z.I. Adzinba. — Yoshkar–Ola, 2000. — 8 p.
3. Adzinba, Z.I. General physical and geographic characteristics / Z.I. Adzinba, K.P. Popov; ed. B.S. Tunieva // Ritsa relic national park. — Sochi: Prospect, 2005. — P. 5–15.
4. Yamalov, S.M. The new association subalpine tall Ritsinsky relic National Park (Republic of Abkhazia) / S.M. Yamalov, I.V. Tania, G.R. Khasanov, M.V. Lebedev // Bulletin of Udmurt University. Biology, Earth Science. — 2016. — V. 26. — Vol. 1. — P. 94–104.
5. Kuftyreva, N.S. Nature Abkhazia / N.S. Kuftyreva, Sh.V. Lashkhi, K.G. Mgeladze. — Sukhumi: Abgosizdat, 1961. — 339 p.
6. Adzinba, Z.I. General physical and geographic characteristics / Z.I. Adzinba, K.P. Popov; ed. B.S. Tunieva // Ritsa relic national park. — Sochi: Prospect, 2005. — P. 5–15.
7. Braun-Blanquet, J. Pflanzensoziologie / J. Braun-Blanquet // Grundzuge der Vegetationskunde. — 3 Anfl. — Wien–New York: Springer–Verlag, 1964. — 865 p.
8. Zernov, A.S. Illustrated Flora of the south of the Russian Black Sea / A.S. Zernov. — M., 2013. — P. 337–338.
9. Kolakowski, A.A. Flora of Abkhazia / A.A. Kolakowski. — Vol. 1–4. — Tbilisi: Metsniereba, 1980–1986.
10. Hennekens, S.M. TURBO (VEG). Software package for input processing and presentation of phytosociological data USER'S guide / S.M. Hennekens. — IBN-DLO Wageningen et university of Lancaster, 1995. — 70 p.
11. Weber, J.E. The International Code of Nomenclature Phytosociological / J.E. Weber, J. Moravec, J.-P. Theurillat // Vegetation Russia. — 2005. — №7. — P. 3–38.
12. The Red Book of the Russian Federation (plants and fungi). — M .: Association of scientific editions KMK, 2008. — 855 p.
13. Red Data Book of the Krasnodar Territory (plants and fungi) / Ed. S.A. Litvinskaya. — Krasnodar LLC «Design Bureau №1», 2007. — 640 p.
About this article
Authors:

Hasanova G.R., Lebedeva M.V., Taniya I.V., Yamalov S.M.



Year:

2016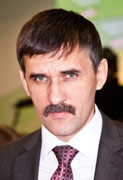 Editor-in-chief
Sergey Aleksandrovich
MIROSHNIKOV