Подача статей





Chirkova V.S., Sobgayda N.A., Alferov I.N., Rzazade F.O.
SEWAGE TREATMENT GALVANIZING PLANT (ON THE EXAMPLE LLC EPO "SIGNAL" ENGELS)
This paper studied the major environmental problems of mechanical engineering in Russia, the main ones being the wastewater etching and electroplating facilities. The analysis of the wastewater treatment system galvanizing plant engineering plants LLC EPO "Signal" (Engels, Saratov region). The main source of pollution of the environment in this production is the electroplating, which according to the FZ-116 on June 21, 1997 attributed to the hazardous production facilities. After chromium plating process produces waste water for cleaning the reagent used in the enterprise process (neutralization), whose efficiency reaches 60 %. The analysis of wastewater Ltd. EPO "Signal" after neutralization indicated that the content of heavy metal cations and oil discharge ratios than in urban sewer systems and requires additional purification. The article proposes to upgrade the existing wastewater treatment scheme Ltd. EPO "Signal", by using a reverse osmosis membrane and ozonation. Enhanced cleaning allow reduction of pollution to 95–98 %. Calculate the concentration of heavy metal cations in the effluent LLC EPO "SIGNAL" after a three-stage purification significantly lower limit values, which will provide closed water and use purified water for washing parts, as well as to eliminate the penalties to the company.
Key words:
engineering, sewage treatment, cations of chromium electroplating wastewater neutralization.
References:
1. Anserov, Y.M., bad, VL Mechanical engineering and environmental protection. A.: Engineering, Leningrad branch, 1979.-224p., Ill.
2. Engels Instrument Association "SIGNAL" //www.eposignal.ru (20.05.2013)
3. Zubarev, G.I., Deep cleaning chromium electroplating wastewater / GI Zubarev, MN Filipeva, DA Plotnikov // Ecology and Industry of Russia, in May 2005. C − 13-16
4. Vinogradov, S.S., Environmentally friendly galvanic production. / Edited by prof. VN Kudryavtseva.− Ed. 2nd, Revised. and additional.; Globe. M. − 2002 − p.135 -148.
About this article
Authors:

Chirkova V.S., Sobgayda N.A., Alferov I.N., Rzazade F.O.



Year:

2015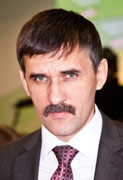 Editor-in-chief
Sergey Aleksandrovich
MIROSHNIKOV