Подача статей





Hadzharov M.H.
GLOBAL SOCIOCULTURAL PROCESSES AND SPIRITUAL SAFETY OF RUSSIA
In article problems of deformation of cultural wealth are considered. In the context of change of social reality the intrinsic characteristic of ideology of globalization is on a global scale given. Problems of transformation of cultural values under the influence of globalization processes are investigated. Negative результаты of this process which are reflected in spiritual safety of Russia are revealed.
Key words:
Western world, globalization, democracy, sovereignty, spirituality, cultural values, safety.
References:
1. Tsaregorodtsev S. S. Mekhanizm of management of society. — M., 2014.
2. Ilyin I.A. Way to evidence. — M.: Publishing house:AST, AST Moscow, Khranitel, 2007.
3. Hadzharov M.H. Globalization of social sphere: cultural problems of the transforming world // Vestnik OSU, 2010. — No 7 (113).
4. Samygin S. I., Vereshchagin A.B. Spiritual security of Russia as the foundation of russian statehood // Humanitarian, socio-economic and the social sciences. -М., 2011. -Issue No. 1.
5. Tonkonogov A.V. Spiritual security of Russian society in the modern geopolitical rivalry (socio-philosophical analysis): dis. at soisk. atla. step. dr.f.s. -M., 2011. Access mode: http://www.zerkalov.org/files/db-m.1-470.pdf.
6. Kuznetsov V. N. Sotsiologiya of safety. — M.: KDU, 2009.
7. Frank S. L. Spiritual bases of society. — M.: Republic, 1992.
8. Zinovyev A.A. Ideological notes//Free thought — XXI. — M, 2005. — № 2.
9. Ilyin I.A. About the future Russia. Chosen articles. — M.: Publishing house "Liana", 1993.
10. Shevchenko V. N. Spirituality, activity, culture//Free thought. — 1993. — № 5.
11. Hadzharov M.H. Sociologi of security: Russia in the age of changing world order // Vestnik OSU, 2012. — No 1 (137).
About this article
Author:

Hadzharov M.H.



Year:

2015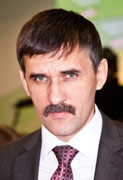 Editor-in-chief
Sergey Aleksandrovich
MIROSHNIKOV