Подача статей





Golovanov Yu.V., Khasanov I.Kh.
THERMOVISION CONTROL METHOD OF THE CAR BODY TECHNICAL CONDITION
In work results of research of parameters changing of technical cars bodies condition in operation on the basis of adaptation of a thermovision method of nondestructive control in relation to cars bodies are presented at their diagnosing.
Key words:
nondestructive control, diagnosing, technical condition, car body, latent defects, thermovision research.
References:
1. Ananyin, A.D. Diagnostics and maintenance of cars / A.D. Ananyin, V.M. Mikhlin, I.I. Gabitov. — M.: Academy, 2008. — 432 p.
2. Bondarenko, E.V. Nondestructive control of paint and varnish covering thickness of a car body / E.V. Bondarenko, Yu.V. Golovanov, I.H. Khasanov // Topical issues of innovative development of a transport complex: materials of the 4th intern. scientific and practical. Internet conf. — Orel: State university-UNPK, 2014. — P. 24–28.
3. Car bodies: maintenance and repair / A.F. Sinelnikov [etc.]. — M.: Akademkniga, 2004. — 495 p.
4. Khasanov, I.H. Method of control of car body technical condition on the basis of measurement of operated wheels installation corners / I.H. Khasanov // Vestnik of the Orenburg state university. — 2011. — No.10. — P. 139–145.
5. Khasanov, I.H. Nondestructive control of technical condition of a car body with use of eddy current method / I.H. Khasanov, Yu.V. Golovanov // Transport and transport and technological systems: materials intern. scientific and practical conf. — Tyumen: TyumSOGU, 2014. — P. 259–263.
About this article
Authors:

Hasanov I.H., Golovanov Yu.V.



Year:

2014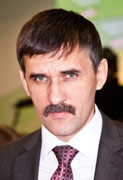 Editor-in-chief
Sergey Aleksandrovich
MIROSHNIKOV