Подача статей





Miazina N.G., Kechinа T.M., Chernykh N.V.
HYDROGEOCHEMICAL FEATURES BRINES MESOZOIC AGE IN THE VOLGOGRAD REGION
The article describes the basic laws of formation and distribution of post-salt chloride brines Mesozoic Caspian depression and south-eastern slope of the Voronezh anticline. The chemical composition of brines. The results of the ion– salt composition of brine salinity and content of biologically active components. Are represented by the main geochemical characteristics and genetic types of brines considered their genesis. Spotted vertical zoning changes mineralization, metamorphism and ionnosolevogo brine composition with depth. The possibility of using an integrated chloride brines as hydro and spa resources.
Key words:
Caspian basin, chemical composition and salinity, chloride brines, the main geochemical and genetic types: oversalt infiltrogennye sedimentogene and brines.
References:
1. Hydrogeology of the USSR. Volga and Kama. Volume XIII / edited by T.P. Afanasyev. — Moscow: Nedra, 1970. — 800 p.
2. Alekin, O.A. Basics of hydrochemistry / O.A. Alekin. — L.: Gidrometeoizdat. — 1953. — 296 p.
3. Posokhov, E.V. Overall hydrogeochemistry / E.V. Posokhov. — L: Nedra. — 1975. — 208 p.
4. Myazina, N.G. Regularities of the formation and propagation of mineral waters in the Volgograd region of hydrogeological structures [monograph] / N.G. Myazina. — Volgograd: Univ VolSU, 2008. — 212 p.
5. Myazina, N.G. Hydrogeochemical features brines Caspian syneklise / N.G. Myazina // Geological evolution of the interaction of water with rocks: Proceedings of All-Russian Conference with the participation of foreigners with scientists ; ed. Shvartseva S.L. — Tomsk, Publ NTL, 2012. — 496 p. — P. 463–466
6. Myazina, N.G. Hydrogeochemical features of post-salt brines complex Caspian syncline / N.G. Myazina // Geology, geography and global energy. — Astrakhan. — 2013. — Number 4 (51). — P. 96–100
7. GOST R 54316-2011 "Natural mineral waters for drinking". — M.: Standartinform 2011. — 65 p.
About this article
Authors:

Chernyh N.V., Kechina T.M., Myazina N.G.



Year:

2014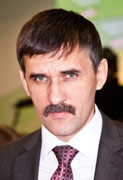 Editor-in-chief
Sergey Aleksandrovich
MIROSHNIKOV