Подача статей





Hadzharov M.H.
RATE AS PREMISED-REGULATORY MECHANISMS SCIENTIFIC KNOWLEDGE
The problem of normativity of scientific activity. Different approaches to understanding the nature of scientific knowledge. Critically overcoming subjective relativistic position relative to understanding research, substantiated the idea of normative "Heat — intensity " of scientific knowledge. Identified functional methodological features standards in scientific knowledge.
Key words:
science, scientific knowledge, activities, methodology, the norm, the scientific method, scientific normativity strength thinking, scientific research, scientific truth.
References:
1. Gusserl E. The crisis of European humanity and philosophy / / Society. Culture. Philosophy. — Moscow: Nauka, 1983.
2. Ogurtsov A.P. Methodology / / New Encyclopedia of Philosophy in 4 vols. — T. 2. — Moscow: Science Fiction, 2001.
3. Ogurtsov A.P. History of the methodology of science: the real and virtual / / Methodology of science: problems and history. — M.: Publishing house: Institute of Philosophy, 2003.
4. Shchedrovitsky G.V. Selected Works. — M.: School Cultural Policy, 1995.
5. Ideals and norms of scientific research. — Minsk: Izd BSU, 1981.
6. Stepin V.S. Philosophical anthropology and philosophy of science. — Moscow: Higher School, 1992.
7. Korshunov A.M. Theory of reflection and activity of the subject. New in Life, Science, Technology. — Moscow: Nauka, 1978. — № 3. — ("A philosophy").
About this article
Author:

Hadzharov M.H.



Year:

2014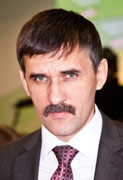 Editor-in-chief
Sergey Aleksandrovich
MIROSHNIKOV