Подача статей





Karyagin M.A., Lelyukhin A.S.
THE MEASURED VOLTAGE ON X-RAY TUBE USING ITS RADIATION
The procedure for measuring the high voltage X-ray emitters considered. The reduced scattering coefficient is used as a criterion. The results of simulation of influence of the excitation conditions of radiation are given. It is shown that the simulation results are in qualitative agreement with experimental data.
Key words:
radiation kilovoltmeter, the reduced scattering coefficient, anode voltage, x-ray devices.
References:
1. Hygiene requirements for the construction and operation of X-ray rooms, vehicles and conducting radiological studies: 2.6.1.1192-03. — Moscow: FTSGSEN, 2003. — 76c.
2. Muslimov D. A., Lelyukhin A. S. Methods and Devices for Anode Voltage Measurement in X-Ray Apparatuses // Biomedical Engineering, Vol. 45, No. 5, January, 2012, pp. 189_193.
3. Muslumov D.A., Lelyukhin A.S. Practical Peak Voltage. Methods and Devices of Measurements. — Germany: LAP LAMBERT Academic Publishing GmbH & Co. KG, 2011. — 160 с.
4. Gamaley K.A., Muslumov D.A., Skrynnikov I.Y., Definition of voltage generating X-rays from the intensity of the direct and scattered beams / / V Troickaya Conference "Medical Physics and Innovation in Medicine" (TKMF-5). Sat materials. Volume 1. — Troitsk, 2012. — S. 411 — 413.
5. Adzhieva M.D., Kuvshinov N.A., Lelyukhin A.S., Kanygina O.N. Assessment of porosity materials reduced scattering coefficient value // Vestnik OSU. — 2012. — №9 (145). — S. 118-122.
6. Karyagin M.A., Muslumov D.A., Lelyukhin A.S. "Module calculate the reduction scattering coefficient for the model of radiation kilovoltmeter." Certificate of state registration of the computer number 2012618284 from 12.09.2012. The Federal Service for Intellectual Property, Patents and Trademarks. Russia.
About this article
Authors:

Lelyuhin A.S., Karyagin M.A.



Year:

2013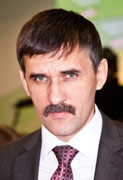 Editor-in-chief
Sergey Aleksandrovich
MIROSHNIKOV