Подача статей





Adzhieva M.D., Shalagin R.V., Lelyukhin A.S., Kanygina O.N.
EFFECT OF CONDITIONS OF GENERATION OF X-RADIATION AT MEASUREMENTS OF POROSITY OF CERAMIC MATERIALS BY A RADIATION METHOD [№ 9 ' 2013]
The problem of creating porosity of radiation measuring instrument is discussed. Method of making the calibration samples is described. Shows the influence of the conditions of X-ray emission on the measurement results. Found that the reduction scattering coefficient is linearly dependent on the porosity of the ceramic samples.
Karyagin M.A., Lelyukhin A.S.
THE MEASURED VOLTAGE ON X-RAY TUBE USING ITS RADIATION [№ 9 ' 2013]
The procedure for measuring the high voltage X-ray emitters considered. The reduced scattering coefficient is used as a criterion. The results of simulation of influence of the excitation conditions of radiation are given. It is shown that the simulation results are in qualitative agreement with experimental data.
Adzhieva M.D., Kuvshinov N.A., Lelyukhin A.S., Kanygina O.N.
EVALUATION OF POROUS MATERIALS BY MEASURING THE COEFFICIENT OF REDUCTION SCATTERING [№ 9 ' 2012]
We propose to evaluate the porosity of bulk samples of materials to the value of the reduced scattering coefficient. Submitted by X-ray diagram of the measurement method and the block diagram of the experimental equipment. It is shown that the reduced scattering coefficient depends linearly on the porosity.
Muslimov D.A., Lelyukhin A.S.
ON THE CONTROL OF OUTPUT PARAMETERS FOR X-RAY SOURCES [№ 1 ' 2011]
In this paper we consider a system of non-invasive monitoring of parameters for X-ray emitters. We propose using a discrete linear detector based on gallium arsenide as the transmitter. It is shown that by the nature of radiation attenuation in the detector substance it is possible finding the values of the effective energy of the beam, the boundary energy in the radiation spectrum, and restoring the spectral composition of radiation by the entrance of the detector.
Lelyukhin A.S., Kornev E.A.
SPECTROMETRIC METHOD OF DETERMINATION OF EFFECTIVE ATOMIC NUMBER OF ENGAGING TISSUE, WHICH IS VISUALIZED ON DIGITAL ROENTGENOGRAMS [№ 12 ' 2004]
A numerical criterion of engaging tissue identification, which is visualized on digital roentgenograms at the ratio of cure intensity, measured in different spectral range, is presented in this article. Metrological limits of method are regarded here too.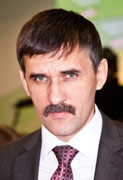 Editor-in-chief
Sergey Aleksandrovich
MIROSHNIKOV