Подача статей





Karyagin M.A., Lelyukhin A.S.
THE MEASURED VOLTAGE ON X-RAY TUBE USING ITS RADIATION [№ 9 ' 2013]
The procedure for measuring the high voltage X-ray emitters considered. The reduced scattering coefficient is used as a criterion. The results of simulation of influence of the excitation conditions of radiation are given. It is shown that the simulation results are in qualitative agreement with experimental data.
Rudakov V.I., Karyagin A.P.
METHOD OF AUTHOMATED CALCULATION OF STRUCTURAL CHARACTERISTIC ON DATA OF X-RAY STRUCTURE ANALYSIS [№ 10 ' 2005]
In the article the method is submitted of program management by goniometer of x-ray diffractometer and the automated processing of experimental data: calculation of the centre of gravity deffractional maximum, Furye`s factors, calculation of micropressure size and areas of coherent dispersion. The function scheme is shown of computer connection with diffractometer.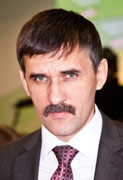 Editor-in-chief
Sergey Aleksandrovich
MIROSHNIKOV