Подача статей





Sharygina M.V, Anilova L.V., Kudryavceva E.A., Kuzmin S.N.
INFLUENCE OF VARIOUS FORMS OF IRON ON GERMINATION OF SEEDS OF TRITICUM AESTIVUM
Article is devoted to research of influence of various forms of iron on germination and germination seeds, length of escapes and Triticum A. wheat roots. Influence nano- and ironmicroparticles on these indicators is revealed and expediency of carrying out preseeding processing of seeds is shown by these solutions.
Key words:
iron, nanoparticles, sowing qualities of seeds.
References:
1. Sipaylovа, O. Yu. Effect of fine iron powder on the morphology and function of spleen (experimental study) / O. Yu. Sipaylova, S.V. Lebedev, E.A. Sizova / / Problems of biological medicinal and pharmaceutical chemistry. — 2011. — №8. — S. 43-46.
2. Lebedev S.V. Content of heavy metals in the Orenburg region of fodder / G.B. Rodionova, E.A. Salnikova, E.A. Kudryavtseva // International scientific publication "Modern fundamental and applied research." — 2011. — №3. — S. 54-57.
3. Sipaylovа O. Yu. Morphofunctional characteristics of the rat liver with intraperitoneal administration of iron nanoparticles / O.Yu. Sipaylova, G.I. Korneev, E.A. Sizovа / / International scientific publication "Modern fundamental and applied research." — 2012. — №2. — 17-21.
4. Gerwald, A.Yu. Synthes of superparamagnetic nanoparticles of magnetite / A.Yu. Gerwald, N.I.Prokopov, Yu.M.Shiryakina// the Messenger МИТХТ, 2010, — T. 5, — No. 3, — Page 45-49.
5. Kovalenko, L.V. Biologically active nanopowders of iron / L.V. Kovalenko, G. E. Folmanis. — M: Science. — 2006. — 124 pages.
6. James, T. Driessen Characterization and Properties of Metallic Iron Nanoparticles: Spectroscopy, Electrochemistry, and Kinetics / James T. Nurmi, Paul G. Tratnyek, Vaishnavi Sarathy, Donald R. Baer, James E. Amonette, Klaus Pecher, Chongmin Wang, John C. Linehan, Dean W. Matson, R. Lee Penn, and Michelle D. — Department of Environmental and Biomolecular Systems, Oregon Health & Science University. — 2004.
About this article
Authors:

Kudryavtseva E.A., Sharygina M.V., Anilova L.V., Kuzmin S.N.



Year:

2013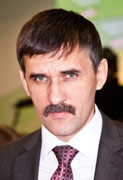 Editor-in-chief
Sergey Aleksandrovich
MIROSHNIKOV