Подача статей





Atamanov V.V., Chernykh V.V., Toporkov I.Yu.
BOTULINUS TOXIN "А" IN COMPLEX TREATMENT OF DRY EYE SYNDROME OF MIDDLE AND HEAVY DEGREE
We offer a treatment way of dry eye disease of average and heavy degree. Injections were spent to a circular muscle of an eye. We applied preparations "Dysport", "Botox", "Xeomin". In 89% of cases the positive clinical result has been received. The duration of positive result was 3–9 months after single injection.
Key words:
The dry eye disease, OCT, Botulinum toxin "A", "Dysport", "Botox", "Xeomin".
References:
1. Brzheskiy V.V., Somov Ye.E. Syndrome of dry eye: modern aspects of diagnostics and treatment // Dry eye syndrome. – 2002. – №1. —P. 3–19.
2. Kashnikova O.A. State of lacrimal fluid and ways of tear film stabilization in photorefractive surgery: Author's abstract…cand. of med.sciences – М., 2000. – 23p.
3. Somov Ye.E., Brzheskiy V.V. Tear (physiology, methods of investigation, clinic). – Spb.: Nauka, 1994. – 121 – 154p.
4. Orlova O.R., Artemyev D.V. Treatment of focal dystonia and facial hyperkinesia botulism by toxin // Neurological journal – 1998. – Vol.3, №3. – P.28-33.
5. Clinical use of botulinum toxin. National Institutes of Health Consensus Development. Conference Statement, November 12-14, 1990. // Arch. Neurol. – 1991. – Vol.48. – P. 1294-1298.
6. Yegorov Ye.A., Basinskiy S.N. Clinical lectures in ophthalmology. Moscow/ – 2007– P. 148-156.
7. Shchuko A.G., Malysheva V.V. Optical coherent tomography in diagnostics of eye diseases. Moscow. – 2010 – P. 22-31.
8. Lobanova O.S., Zolotarev A.V., Volobuyev A.N. Optical coherent tomography in diagnostics and analysis of "dry eye" disease pathogenesis. Modern optometry. – №6 (36), 2010. – P. 16-26.
About this article
Authors:

Chernyh V.V., Atamanov V.V., Toporkov I.Yu.



Year:

2012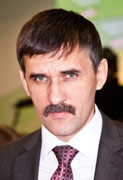 Editor-in-chief
Sergey Aleksandrovich
MIROSHNIKOV