Подача статей





Khadzharov M.Kh.
EXPLANATION, UNDERSTANDING AND INTERPRETING — BASIC COGNITIVE PROCEDURES SOCIAL SCIENCES AND HUMANITIES
The article discusses the basic procedures for using mye-in social and humanitarian studies. Identify problems that arise in the aspect of their understanding and use. Their cognitive significance is revealed through a comparative approach and the definition of a functional orientation.
Key words:
explanation, understanding and interpretation, cognition, language, communication, text, deconstruction.
References:
1. Bakhtin, M.M. The experience of philosophical analysis. The problem of the text // Questions of the philosophical. — 1976. — №10.
2. Nikitin, E.P. Explanation — the function of science. — Moscow: "Nauka", 1970. — Ch. 1.
3. Bakhtin, M.M. The aesthetics of verbal creativity. — M.: Arts, 1979.
4. Lecturing, V.A. The subject, an object of knowledge. — Moscow: "Nauka", 1980.
5. Lotman, Y.M. Editor's note: (A semiotic approach to the problem of inter-textual relations) // Kazan. listings. Tart. goc. University. In 1982. — Vol. 576.
6. Pavilionis, R.I. The problem of meaning. — M.: Thought, 1983.
7. Kuhn, Т. The Structure of Scientific Revolutions. — Moscow: AST, 2001.
8. Quine, W. Ontological Relativity // Modern philosophy of scienceki: knowledge, rationality, values in the writings of thinkers of the West. — M.: Publishing Corporation "Logos", 1996.
9. Spirin, V. Construction of ancient Chinese texts. — Moscow: Nauka, 1976.
10. Foucaut, M. Archaeology of knowledge. — Kiev: Nike Centre, 1996.
11. Akhiezer A.S., Shurovsky M.A. From dialogue to diologizatsii (in light of con-cept V. Bibler) // Problems of Philosophy. — 2005. — №3.
12. Gadamer, G.G. Truth and Method. — M.: "Progress", 1988.
13. Mironov, V.V. The value of hermeneutic functions of philosophy in the dialogue of cultures // Man — Philosophy — Humanism: In 7 vols. — St. Univ SPGU, 1997 — V. 6.
14. Martynovich, S.F. Understanding and dialogue in being on the philosophy and scientific-knowledge // Man, dialogue and understanding. — Saratov: Source, 1996.
About this article
Author:

Hadzharov M.H.



Year:

2012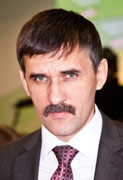 Editor-in-chief
Sergey Aleksandrovich
MIROSHNIKOV