Подача статей





Medvedev P.V., Fedotov V.A.
FACTORS CONTAMINATION GRAIN DISPUTES BACILLUS SUBTILIS AND BACILLUS MESENTERICUS
This article presents the results of laboratory analysis — estimation the degree of contamination for the spore-forming microorganisms of wheat grown in different natural-geographical zones of the Orenburg region.
Key words:
microorganisms, seeding, potato disease, grain, bread.
References:
1. Marmuzova, L. Fundamentals of microbiology, sanitation and hygiene in the food industry: a textbook for stud. environments. prof. Textbook. Institutions / LV Marmuzova .- 2nd ed. sr .. — M.: Academia, 2004. — 136. — 37-38 c.]
2. Soil microbiology: Lane. from English. VV Novikov / ed. DI Nikitin. — M.: Kolos, 1979. — 93-94 sec.
3. Skurikhin IM Tutelian VA Guidance on how to analyze the quality and food safety. — Moscow: Medicine. — 1988. — 342 sec.
4. Egorov VV Workshop for Microbiology. -M. Izd-vo MGU, 1986.-P.35-42.
5. Methods of soil microbiology and biochemistry / ed. prof. DG Zvyagintsev. — Moscow State University. — 1991. — 304.
About this article
Authors:

Medvedev P.V., Fedotov V.A.



Year:

2011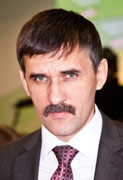 Editor-in-chief
Sergey Aleksandrovich
MIROSHNIKOV