Подача статей





Ilyina N.A., Kasatkina N.M.
MICROECOSYSTEM OF INTESTINE WITH PROTOZOAL INVASION
The investigation of ecological characteristics of microflora by gastroenterological patients with protozoal invasion showed that there are qualitative and quantitative alterations in intestine microbiocenosis. It is displayed by means of increase of mutual bacterial density and frequency of occurrence of opportunistic-pathogenic in the background of decrease of dominance of the main symbiotes of intestine, and first of all bifidus and lactobacteria, basketvines and bacteroids.
Key words:
microecosystem, protozoal invasion, parasitocenosis, microbiocenosis, quotient of variation, index of contagiousness.
References:
1. Dobrovolsky O. V, Serebrova S.Ju.Therapy of stomach ulcer and a problem of preservation of microecology of a gastrointestinal path / O.V.Dobrovolsky, S.J.Serebrova//RMJ. — Appendix. — Selected lectures for family doctors. — 2007. — Vol.15. — №16. — P. 1193 — 1200.
2. Kostjukevich O. I. Modern knowledge of intestines microbiocenosis. Disbiosis and its correction / O.I.Kostjukevich//RMJ — Appendix. — Clinical recommendations and algorithms for practising doctors. Selected lectures for family doctors. — 2007. — Vol.15. — №28. — P. 2176 — 2183.
3. Sytnik S.I. Spatial structure and hierarchy of ecological groups in a skin microbiocenosis of mammary glands / S.I.Sytnik//Journal Microbiology, epidemiology and immunology. — 1991. — №3. — P. 21-24.
About this article
Authors:

Ilyina N.A., Kasatkina N.M.



Year:

2011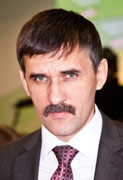 Editor-in-chief
Sergey Aleksandrovich
MIROSHNIKOV