Подача статей





Sablina O.A.
FRACTIONAL-GROUP COMPOSITION HUMUS STEPPE SOILS SOUTHERN TRANS-URALS
The fractionally-group composition of a humus of chernozem ordinary, chernozem southern and dark-chestnut soil in natural and agricultural ecosystems of the Orenburg Zauralye is considered. It is established that in a zonal-geographic number of steppe soils and in the series of "virgin soil-arable land" the increase in the degree fulvate and decrease in the maintenance of humic acids is observed.
Key words:
humic acid, humus, Zauralye, dark-chestnut soils, fractionally-group composition, fulvic acid, chernozem.
References:
1. Birjukova, О. N. Content and composition of humus in the basic types of soils of Russia / О. N. Birjukova, D. S. Orlov // Pochvovedenie. — 2004. — №2. — S. 171–188.
2. Devjatova, Т. А. Anthropogenic transformation of chernozems of the center of Russian plain / T. A. Devjatova, D. I. Scheglov, A. P. Scherbakov, V. G. Artjuhov // Vestnik Voronezhskogo gosudarstvennogo universiteta. Serija Himija. Biologija. Farmacija. — 2004. — №2. — S. 128–134.
3. Orlov, D. S. Humic acid of soils and general theory of humification / D. S. Orlov — М.: Izdatel'stvo MGU, 1990. — 325 s.
4. Practicum on agrochemistry / pod red. V. G. Mineeva. — 2-e izd. pererab. i dop. — М.: Izdatel'stvo MGU, 2001. — 689 s.
5. Rusanov, A. M. Humusification and a humus of forest-steppe and steppe chernozems of Southern Preduralje / A. M. Rusanov, L. V. Anilova // Pochvovedenie. — 2009. — №10. — S. 1184–1191.
About this article
Author:

Sablina O.A.



Year:

2011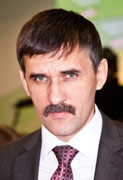 Editor-in-chief
Sergey Aleksandrovich
MIROSHNIKOV