Подача статей





Klevtsov G.V., Valiev R.Z., Klevtsova N.А., Kulyasova О.B., Phesenyuk М.V.
STATIC AND FATIGUE RUPTURES OF АМ60 MAGNESIUM ALLOY SAMPLLES WITH DIFFERENT GRAIN SIZES
Summary. The report studied the structure of static and fatigue rupture for the АМ60 alloy samples in initial state (1 mm grain size) and after Equal Channel Angular Extrusion (ECAE) at 150?С (1 mkm grain size). Significant differences were found both in the mechanical alloy properties and macro- and microstructure of the fractures in the alloy samples in initial conditions and after ECAE.
Key words:
static and fatigue loading, destruction, rupture, macro- and micro relief of the rupture surface.
References:
1. Siegel R.W. — In: Proc. Of the NATO ASI. Mechanical properties of ultrafine-grained materials (Wds. M. Nastasi, DM Parkin, H. Gleiter). — Dordrecht; Boston; London: Kluwerv Head. Publ., 1993. V. 233. P. 509.
2. Morokhov ID, Trusov, LD, Lapovok VI Physical phenomena in ultra media .- Moscow: Nauka, 1984 .- 472 pp.
3. Valiev R.Z., Tsenev N.K. — In: Hot deformation of aluminum alloys (ed. By TG Langdon, HD Merchant, JG Morris, MA Zaidi). TMS. Warrendale, PA, 1991. P. 319.
4. Valiev RZ, Alexandrov IV Bulk Nanostructured Metallic Materials: Synthesis, structure and properties. — M.: ICC "Academkniga, 2007 .- 398 pp.
5. Scanning electron microscopy. Destruction: Ref. publ. / L. Engel, Klingele H. Per. with him. — M.: Metallurgy, 1986 .- 232 pp.
6. Botvina LR Kinetics of the destruction of structural materials .- Moscow: Nauka, 1989 .- 230 pp.
7. Klevtsov GV, Botvina LR, Klevtsova NA, LV Limar Fraktodiagnostika fracture of metallic materials and structures. — Moscow: MISA, 2007 .- 264 pp.
About this article
Authors:

Fesenyuk M.V., Klevtsova N.A., Kulyasova O.B., Klevtsov G.V., Valiev R.Z.



Year:

2010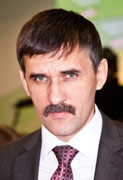 Editor-in-chief
Sergey Aleksandrovich
MIROSHNIKOV