Подача статей





Medvedev P.V., Stepanov А.S., Fedotov V.А.
EVALUATION OF CONTAMINATION LEVELS FOR THE WHEAT GRAINS FROM DIFFERENT NATURAL AND GEOGRAPHICAL ZONES OF ORENBURG OBLAST BY SPORES OF THE ROPE PATHOGENS
The paper made evaluation of contamination levels for the wheat grains from different natural and geographical zones of Orenburg Oblast by spores of the rope pathogens through the method of vacuum membrane filtration with the use of nutritious cardboard substrates. The paper revealed wheat contamination level functions of different zones by bacteria Bacillus subtilis and Bacillus Mesentericus; conclusions were made of correlations between grain contamination levels and soil and climatic conditions.
Key words:
potato bacillus, vacuum membrane filtration, spring wheat, zoning areas.
References:
1. Afanasyev, O. Microbiological control of bakery production / OA Afanasyev. — Moscow: Food Industry, 1976. — S. 113.
2. Egorov, VV Workshop on Microbiology / VV Egorov. — Moscow: MGU, 1986. — S. 35-42.
3. Omelchenko, VD Grains, damaged and spoiled by microorganisms and self-warming as a criterion of hygienic conditions of wheat and maize / VD Omelchenko — Cand. diss. Cand. Technical. Science. — M., — 1991. — S. 1-9.
4. How to prevent potato diseases bread / GosNIIHP. — M. — 1998.
5. Puchkov, LI Technology bread / LI Puchkov, RD Polandova, IV Matveeva — St. Petersburg.: GIORD — 2005.
6. Vitavskaya, AV Biological protection of bread from the bread, potato disease / A. Vitavskaya, GN Dudikova, KA Tulemisova. — Almaty, 1998. — S. 4-32.
7. Klevakin, VM Sanitary microbiology food / VM Klevakin, V. Kartsev .- L.: Medicine — 1986. — S. 164.
8. Kryuchkov, AG Basic principles and methodology of agro-ecological zoning of crops in the Southern Urals steppe / AG Kryuchkov. / / Bulletin of the Russian Academy of Agricultural Sciences — 2006. — S. 704.
About this article
Authors:

Fedotov V.A., Stepanov A.S., Medvedev P.V.



Year:

2010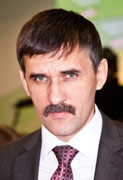 Editor-in-chief
Sergey Aleksandrovich
MIROSHNIKOV