Подача статей





Sipailova O.Yu. Moiseeva E.V., Ivanov Yu.B.
APPRAISAL OF THROMBODEFENCINS INFLUENCE ON THE GROWTH OF INTORTED BREAST CANCER "IN VIVO"
Experimentally the authors observed the presence of antitumor activity in thrombodefencins, and more effective than the well-known immunomodulators, which are used as drug-comparison.
Key words:
thrombodefencins, cationic peptides, breast cancer (BC), antitumor activity.
References:
1. Bukharin O.V., Beal V.A., Suleimanov K.G. Antimicrobial protein of platelets. Yekaterinburg, Ural Division of RAS, 2000.
2. Patent RU 2278675 C1 from 27.06.2006 "bactericidal and pharmaceutical composition containing an effective amount of antimicrobial agent.
3. Hancock R.E. 1997. Peptide antibiotics. Lancet 349:418-422.
4. Mc Keown S.T. et al. The cytotoxic effect of human peptid-1 (HNP1) and lacto-ferrin on oral squamous cell carcinoma (OSCC) in vitro. Oral oncol. 2006. vol 42 (7). P. 685.
5. Moiseeva E.V., Merkulova I.B., Bijleved-Koten J.W., Miroshnicov A.L., Den Otter W: Therapeutic effect of f single dose of IL-2 on transplanted murine breast cancer. Cancer Immunol Immunther 8: 487-496 - 2003.
6. Moiseeva E: Original approaches to test anti-breast cancer drugs in a novel set of mouse models. Pathobiology, Utrecht University, The Netherlands 191 pp, http://igitur-archive.library.uu.nl/dissertations/2005-1130-200033/index.htm, 2005.
7. Yang D., Biragyn A., Kwak L.W., Oppenheim J.J. Mammalian defensins in immunity: more than just microbicidal. Trends in Immunol., 2002, 23:291.
About this article
Authors:

Sipaylova O.Yu., Moiseeva E.V., Ivanov Yu.B.



Year:

2009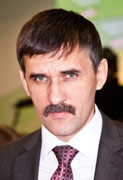 Editor-in-chief
Sergey Aleksandrovich
MIROSHNIKOV