Подача статей





Garitskaya M.Y., Chekmareva O.V.
ENVIRONMENTAL CHARACTERISTICS OF VARIOUS FUNCTIONAL ZONES IN ORENBURG
City human environment includes both natural components — air, water, vegetation, soil and fauna and artificial human material elements, which are surrounded by and in contact with which flows the livelihoods of people. In the course of human life changes more natural components of the environment of the city, giving rise to many environmental problems. The city is one of the kinds of social and spatial organization of the population, which emerges and develops on the basis of the concentration of industrial, scientific, cultural, administrative and other functions. In a compact footprint of industry, infrastructure and the population has significant social effect, giving people greater access to the self-realization, health, social services, ways of spending free time. But on the other hand, high population density and concentration of industrial facilities, along with a variety of factors arising from economic activity (noise, vibration, etc.) in a limited area, form the human environment, which by its subject-spatial, physical, chemical and biological parameters and other indicators are fundamentally different from the originally genetically adapted.
Key words:
urban environment, functional areas, pollution, environmental pressures, the concentration factor, ranking.
References:
1. Naprasnikova, EV Snow cover in assessing the ecological state of the urban environment / EV Naprasnikova, AP Makarova // Geography and natural resources. − 2006. − №3. − S.162-166.
2. Khomich. VA Ecology of the urban environment: a textbook for university students / VA Khomich. − Moscow: DIA, 2006. − 240 p.: Ill. − Bibliography.: p. 236-237.
3. Tarasova, T. F.Metodicheskie instructions to laboratory works on the discipline of specialization "Environmental Chemistry" / TF Tarasova, OV Malihina, M. Yu Garitskaya. − Orenburg: OSU, 2001. − 16 p.
4.Gosudarstvenny report on the state and protection of the environment of the Orenburg region in 2013. − Orenburg, 2014
5. Ekologiya city / V. Denisov, A. Kurbatov, IA Denisova; ed. Vladimir Denisov. − Rostov-on-Don in March, 2008. − 831 p.
About this article
Authors:

Garitskaya M.Yu., Chekmareva O.V.



Year:

2015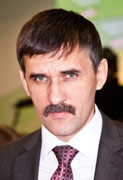 Editor-in-chief
Sergey Aleksandrovich
MIROSHNIKOV