Подача статей





Ponomareva P.A.
DETERMINATION OF THE LIMITING STAGE OF THE PROCESS OF EXTRACTION OF IODINE FROM SALT-FREE SOLUTIONS BY ARRANGEMENT ALKYLPHOSPHONYL ETHER-ISOOCTANE
The article contains results on the determination of the limiting stage of the process of extraction of elemental iodine from salt-free model solutions composition alkylphosphonyl ether — isooctane in the Lewis cell. As extractants were used compositions tributyl phosphate and Di-2-EGPC with isooctane.
Key words:
extraction, iodine, tributylphosphate, the rate-limiting step, the mode of extraction.
References:
1. Fomin, V. V. Kinetics of attractie [Text] / V. V. Fomin. M. Atomizdat, 1978. 120 p.
2. Ponomareva P.A., Stroeva E.V. Investigation of the process of the distribution of elementary iodine in the system of organic solvent — mineralized water solution. // The XI International scientific-technical conference "science-Intensive chemical technologies 2006". Samara, 2006. proc. Vol. 1. P. 220-221.
3. Ponomareva P.A.., Stroeva E.V. Determination of thermodynamic and kinetic parameters of extraction of iodine ТBP in a mixture with isooctane of unminral solutions // Chemical industry today. 2007. № 12. P. 22-26.
4. Korenman, I. M. Extraction in the analysis of organic substances [Text] / I. M. Korenman. M.:
Chemistry, 1977. 200 p.
About this article
Author:

Ponomareva P.A.



Year:

2015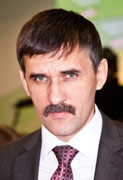 Editor-in-chief
Sergey Aleksandrovich
MIROSHNIKOV