Подача статей





Repina E.A.
MEANING OF THE CATEGORIES OF "CHANCE" AND "SPONTANIETY" FOR NATURAL AND POST-MODERNIST DISCOURSE AND FOR MODERN ARCHITECTURE
The article deals with general methodological problems of modern scientific knowledge, its ontologistic, epistemological, logical and axiological basis in the light of the crisis of modern society, as applied to the sphere of architectural discourse. The critical basis for logical organization is modern discoveries in exact sciences, their shift towards subjective and intersubjective meanings, i.e. the humanitarian dimension, as well as post– modernist culture ideology. The modern moment of the development of knowledge and society, which may be described as the post-scientific situation, is the point of choosing the vector for further development, it is close to the point of bifurcation, which is an important choice in the light of threat to the survival of civilization as such. The first thing to be criticized is the monologic of modern professional architectural methods and values, that are founded in the modernist paradigm — fetishizing the rectangular aesthetic, ignoring the established values already inherent to the environment, associative poverty, preferring the abilities only of chosen codes, as a consequence of social utopic contents, denying the corporal metaphor, ignoring the corporal and unconscious experience when producing and experiencing architecture, mythologizing the market as the main rite of our times. These are the reasons for the three main problems of modern architecture: 1) Its anonymous-universal character (absence of identity, mystery, ambiguity). 2) Repression of the necessary opposite pole. 3) Dehumanization (displacement of the man and everything human — deep, subjective, poetic meanings). The guarantee for a new ideology may be the category of chance, which is recognized at present as equal to the category of regularity and understood as a new system of values. This category is based on the necessity to replace the classical type of rationality and the progressist discourse (with its determinism, fundamentalism, dualism, functionalism, quantitative approach and preference paradigm), and to rehabilitate all repressed meanings of culture, as well as to return subject-subjective relations into discourse and practice. The category of "spontaneity" is broadly explained. This model will be able to release tension inside all types of contradictions, which have lead the society to the verge of death, and architecture — to being anonymous and universal. The hypothesis of the so-called "spontaneous method" is put forward.
Key words:
chance, spontaneity, post-modernism, rehabilitation of repressed meanings, subject, post-nonclassical sciences, monologic, dialogism, alternative methodology.
References:
1. Haar K. Post-modernism. Moscow: FAIR-PRESS. — 2006. — 272 pp.
2. Gurevich P. Aesthetics: Textbook for Students of Higher Educational Institutions. Moscow: UNITY — DANA. — 2006. — 303 pp.
3. Mankovskaya N. Post-Modernist Aesthetics. St Petersburg: Aleteja. — 2000. — 347 pp.
4. History and Philosophy of Science: Textbook for Higher Educational Institutions. // Endorsed by Lebedev S. Moscow: Academic Project. Alma Mater. — 2007. — 608 pp.
5. Epstein E. Philosophy of the Possible. St Petersburg: Aleteja. — 2001. — 334pp.
6. Dobritsina I. From Post-Modernism — to Nonlinear Architecture: Architecture within the Context of Modern Philosophy and Science. Moscow: Progress — Tradition. — 2004. — 416 pp.
7. Tarasov Y. Philosophy of Science: General Problems. Voronezh: VIVT. — 2008. — 212 pp.
8. Wilber K. A Brief History of Everything. Moscow: ACT: Astrel. — 2006. — 476 pp.
9. Baudrillard J. Passwords. From Fragment to Fragment. Ekaterinburg: U-Faktoria. — 2006. — 200 pp.
10. Egorov V. Philosophy of the Open World. Moscow: Moscow Institute of Psychology, Sociology and Social Relations. Voronezh: MODEK. — 2002. — 320 pp.
11. Theorising a new agenda for architecture. An anthology of architectural theory 1965-19995 / Kate Nesbitt, editor. — NY: Princenton architectural press. — 1996. — 606 pp.
12. Zolotukhina — Abolina E., Nalimov V. Moscow: MART. Rostov-on-Don: MART. — 2005. — 128 pp.
13. Talbot M. The Holographic Universe. Moscow: Sophia. — 2004. — 368 pp.
About this article
Author:





Year:

2015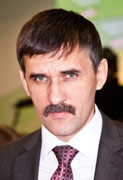 Editor-in-chief
Sergey Aleksandrovich
MIROSHNIKOV