Подача статей





Sharipov T. F.
ON THE ISSUE OF DISCLOSURE OF FINANCIAL AND LEGAL ARRANGEMENTS CRIME"
Analysis of the economic crimes law enforcement indicates that under current conditions the latency of this category of crime, remains significant. Great difficulties faced by investigators, investigators, the judge, workers operative investigation authorities in law enforcement and first of all in the process of suppression, detection and investigation of crimes. Significant challenges to be overcome in problem situations where knowing subject confront multiple logical and information barriers. To obtain evidence in criminal cases of economic orientation, you must seizure information on financial and legal schemes, which in most cases is a whole package of documents: description; legal basis and a list of the investigated regulations; a graphic image; financial justification: the calculation of absolute and relative performance, the scheme achieved savings or income; model of accounting and accounting entries; a list of significant risks and evaluation of application; staff memo that can be stored on a secure disk to be removed and a single keystroke. The main conclusion from the above: the disclosure of crimes related to the construction of financial and legal arrangements, must be clearly and deeply explore the information stored on your computers and remote access suspect companies, as well as check for signs of disloyalty taxpayer series: significant amounts of tax deductions value added tax; founder frequent among its counterparties; lack of fixed assets and others.
Key words:
information, fraud, cashing scheme, criminal liability.
References:
1 Artemenko, D.A. Tax administration in Russia: dis. ... cand. ehkon. sciences: 08.00.10 / D.A. Artemenko. — Rostov-on-Don, 2011. — 380 p.
2 Becker, E.G. Microeconomic aspects of the problem of tax evasion: dis. ... cand. ehkon. sciences: 08.00.01 / E.G. Becker. — Moscow, 2006. — 276 p.
3 Brusnitsyn, S.V. Improving the mechanism of fiscal control on value-added tax: formation and development trends in the system of tax administration largest taxpayers: dis. ... cand. ehkon. sciences: 08.00.10 / S.V. Brusnitsyn. — Moscow, 2012. — 164 p.
4 Mamaev, M.I. Criminally-legal and criminological characteristics of tax crimes under the laws of the Russian Federation: dis. ... cand. jur. sciences: 12.00.08 / M.I. Mamaev. — Rostov-on-Don, 2003. — 227 p.
5 Meleshev, R.S. Tax planning in the system to ensure financial security: dis. ... cand. ehkon. sciences: 08.00.10 / R.S. Meleshev. — Moscow, 2012. — 178 p.
6 Mishchenko, E.V. On the nature and properties of criminal procedural form / E.V. Mishchenko // Vestnik OSU. — 2013. — № 3(152). — P. 140–144.
7 Levchenko O.V. Features criminal procedural evidence using separate presumptions / O.V. Levchenko // Vestnik OSU. — 2012. — № 3(139). — P. 88–91.
8 Tikhonov, D.N. Tax planning in Russian enterprises: dis. ... cand. ehkon. sciences: 08.00.10 / D.N. Tikhonov. — Moscow, 2010. — 176 p.
9 Sharipov, T.F. Clustering as a tool for the development of machine-building enterprises (for example, the Orenburg region) / T.F. Sharipov // Vestnik OSU. — 2013. — № 8. — P. 67–72.
10 Sharipov, T.F. Background and direction of modernization planning mechanism in the engineering cluster: the case of "The Valley" / T.F. Sharipov // Vestnik OSU. — 2013. — № 12. — P. 132–138.
11 Sharipov, T.F. Modernization as a tool for development planning at the enterprise / T.F. Sharipov // Vestnik OSU. — 2012. — № 13. — P. 418–424.
About this article
Author:

Sharipov T.F.



Year:

2015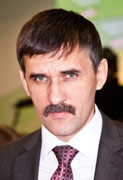 Editor-in-chief
Sergey Aleksandrovich
MIROSHNIKOV