Подача статей





Karabuschenko N.B., Ivashchenko A.V., Chkhikvadze T.V., Pilishvili T.S.
FEATURES OF PERSON'S SPIRITUALITY IN INTERPERSONAL RELATIONSHIP
Spirituality as an integral personal property manifests itself in the relationship between man and realized in his actions. Integration of scientific concepts of spirituality allows you to select the criteria and levels of development. Criteria manifestations of spirituality in the field of interpersonal relationships are the indicators of empathy, tolerance, self-worth in the human system of value orientations of the individual and self-actualization in the process of communicating with others. Basic levels of spiritual development of personality, reflecting the method and design features of interpersonal relationships are unspiritual layer, updating the spiritual needs of the communication, the level of implementation of spirituality in relation to others and the level of spiritual self-realization.
Key words:
spirituality, interpersonal relationship, spiritual self-actualization, tolerance, empathy, defence mechanism, value orientations.
References:
1. Bratus' B.S. Dolzhnoe neizbezhno svjazano s sushhim // Chelovek. — 1998. — №4. — S. 67–75
2. Zubova L.V. Justification of criteria that help to identify the level of formation of valuable orientations of the person // Vestnik of the Orenburg State University. –2002. — № 8. — S. 120–126.
3. Ivashhenko A.V., Chhikvadze T.V. Aktivnost' v strukture duhovnosti lichnosti studentov RUDN // Vestnik RUDN. Serija: Psihologija i pedagogika. — 2013. — №4. — S.5-11.
4. Libina A.V. Sovladajushhij intellekt: chelovek v slozhnoj zhiznennoj situacii. — Moskva: Jeksmo, 2008. — s. 400
5. Livshic R. L. Duhovnost' i bezduhovnost' lichnosti (social'no-filosofskij analiz). Ekaterinburg: 1997. — 152 s.
6. Shadrikov V.D. Mental'noe razvitie cheloveka. — Moskva: Aspekt Press, 2007. — 248 s.
7. Jeticheskaja mysl': Nauchno-publicisticheskie chtenija. 1991/ Obshh. red. A.A. Gusejnova. — M.: respublika, 1992.
8. C.Power, L.Kohlberg Moral development, religious thinking and the question of a seventh stage. — San Francisco, CA: Harper&Row, 1981
About this article
Authors:

Chhikvadze T.V., Karabushchenko N.B., Ivashchenko A.V.



Year:

2015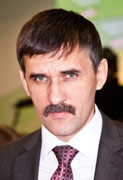 Editor-in-chief
Sergey Aleksandrovich
MIROSHNIKOV