Подача статей





Shevchuk N.E., Bikbulatova A.A., Mannanova R.F.
LEVEL ASSESSMENT PROINFLAMMATORY CYTOKINES AND PROSTAGLANDIN E2 IN THE TEAR FLUID BIPSEUDOPHAKIC EYES IN PATIENTS AFTER IMPLANTATION EXTENSION IOL SULCOFLEX
This article presents the analysis of changes in concentration of proinflammatory cytokines (TNF-α and IL-β) and prostaglandin E2 in the lacrimal fluid of 28 patients (32 eyes) with pseudophakia and residual ametropia before and after add-on IOL Sulcoflex implantation. The concentration of TNF-α, IL-β and prostaglandin E2 in lacrimal fluid of bi-pseudophakic eyes was determined by polarization fluoroimmunoassay and test kits (R & DSystems, USA). The obtained results showed that the intraocular correction of residual ametropia does not cause a pronounced local inflammatory response.
Key words:
proinflammatory cytokines, prostaglandin E2, add-on IOL.
References:
1. Absalikova, D.K. Interleukin-1 and prostaglandin E2 dynamics in endogenous uveitis / D.K. Absalikova, V.B. Malkhanov, N.E. Shevchuk // Refractive surgery and ophthalmology. — 2010 — Vol.10, №1. — P. 40–42.
2. Akmanova, A.A. Aphakia correction in children with amblyopia caused by monolateral congenital cataract / Author's abstract..... сand. of med. seiences / A.A. Akmanova. — Ufa, 2003. — 24 p.
3. Egorova, E.V, Immune methods of prognosis in complicated cataract surgery / E.V. Egorova, I.E. Ioshin // Ophthalmosurgery. — 1997. — №3. — P. 25–32.
4. Poryadina, G.V. Inflammatory mediators. Methodical working up for theraupeutic and pediatric faculties students self work / G.V. Poryadina. — Moscow, 2006. — 22 p.
5. Amon, M. Enhancement of refractive results after cataract surgery and IOL-implantation with a supplementary IOL implanted in the ciliary sulcus / M. Amon // Oftalmologia. — 2009. — Vol.53. — №4. — P. 91–95.
6. Sulcoflex pseudophakic supplementary IOLs / C. Claoue, M. Amon, N. Korber, R. Daniel, [et al.] // Supplement to J. Cataract Refract. Surg. — 2009. — №11–12. — P. 2–11.
About this article
Authors:

Bikbulatova A.A., Mannanova R.F.



Year:

2014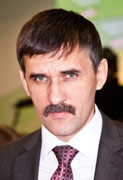 Editor-in-chief
Sergey Aleksandrovich
MIROSHNIKOV