Подача статей





Shevchuk N.E., Bikbulatova A.A., Mannanova R.F.
LEVEL ASSESSMENT PROINFLAMMATORY CYTOKINES AND PROSTAGLANDIN E2 IN THE TEAR FLUID BIPSEUDOPHAKIC EYES IN PATIENTS AFTER IMPLANTATION EXTENSION IOL SULCOFLEX [№ 12 ' 2014]
This article presents the analysis of changes in concentration of proinflammatory cytokines (TNF-α and IL-β) and prostaglandin E2 in the lacrimal fluid of 28 patients (32 eyes) with pseudophakia and residual ametropia before and after add-on IOL Sulcoflex implantation. The concentration of TNF-α, IL-β and prostaglandin E2 in lacrimal fluid of bi-pseudophakic eyes was determined by polarization fluoroimmunoassay and test kits (R & DSystems, USA). The obtained results showed that the intraocular correction of residual ametropia does not cause a pronounced local inflammatory response.
Bikbov M.M., Bikbulatova A.A., Khusnitdinov I.I., Mannanova R.F.
COMPARISON ANALYSIS OF CHANGES OF PSEUDOPHAKIC EYE OPTIC SYSTEM ABERRATIONS AFTER ADD-ON IOL SULCOFLEX IMPLANTATION AND EXCIMER LASER INTRASTROMAL KERATOMILEUSIS [№ 12 ' 2012]
The paper presents comparison analysis of changes of pseudophakic eye optic system aberrations after add-on IOL Sulcoflex implantation and LASIK. Aberrations tests were performed using OPD-Scan (Nidek). Received results showed that Excimer laser and intraocular correction of low and average residual ametropia has decreased the level of low aberrations without increasing the level of higher order aberrations.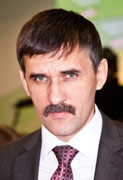 Editor-in-chief
Sergey Aleksandrovich
MIROSHNIKOV