Подача статей





Pozdeeva O.G, Oleynichuk O.P.
CHANGES IN LOCAL HEMODYNAMICS AS A RISK FACTOR OF FORMATION BILATERAL IDIOPATHIC MACULAR RUPTURE
Examined the state of the local ocular hemodynamics and characteristics of choroidal blood flow in patients with idiopathic macular ruptures. Identification of low speed characteristics of choroidal blood flow and blood flow in the short posterior ciliary arteries as in the eye with the IMR, and the pair "health" of the eye, which can be used to predict the course of the disease.
Key words:
idiopathic macular rupture, choroidal blood flow, ocular hemodynamics, short posterior ciliary arteries.
References:
1. Pathogenesis and treatment of idiopathic macular ruptures / S.A. Alpatov [et al.]. — Novosibirsk: Nauka, 2005.
2. Kampik, A. Macular holes — a diagnostic and therapeutic enigma / A. Kampik // Br. J. Ophthalmol. — 1998. — 82. — 338 p.
About this article
Author:

Pozdeeva O.G.



Year:

2014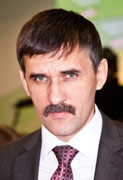 Editor-in-chief
Sergey Aleksandrovich
MIROSHNIKOV