Подача статей





Uzyakov R.N., Kushnarenko V.M., Repyakh V.S., Chirkov Yu.A.
INFLUENCE OF HARDNESS ON STEEL HYDROSULFIDE CRACKING
In article cases of hydrosulfide cracking of steel details and products are considered. It is shown that along with a chemical composition the most complex mechanical criterion characterizing suitability steel to operation in the hydrosulfide containing environments is hardness.
Key words:
pipe, corrosion, hardness, crack, cracking.
References:
1. Kushnarenko, V.M. Defects and damages of details and designs / V.M. Kushnarenko, V.S. Repyakh, E.V. Kushnarenko, E.Yu. Chirkov. — Orenburg: Orenburg state university, 2012. — 531 p.
2. Uzyakov, R.N. Destruction of valves from austenitic martensitic steel as a result of a hydrogenation / R.N. Uzyakov, V.V. Nasteka, M.R. Uzyakov // Durability and destruction of materials and designs. Materials of the 4th international conference. Application No. 1, 2005 to the magazine of the Russian Academy of Natural sciences "Modern high technologies". — Moscow: 2005 — P. 45–47.
3. Kushnarenko, V.M. Causes analysis of equipment and pipelines failures / V.M. Kushnarenko, V.S. Repyakh, E.V. Kushnarenko, E.Yu. Chirkov // Vestnik of the Orenburg state university, 2010. — No.10. — P. 153–159.
4. NACE MR0175-2002. Standard Material Requirements. Sulfide Stress Cracking Resistant Metallic Materials for Oilfield Equipment.
About this article
Authors:

Repyah V.S., Uzyakov R.N., Kushnarenko V.M., Chirkov Yu.A.



Year:

2014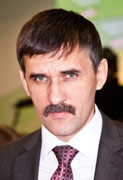 Editor-in-chief
Sergey Aleksandrovich
MIROSHNIKOV