Подача статей





Lyashenko I.E., Zheltova V.I.
HYGIENIC PREREQUISITES, ENGINEER ELABORATIONS AND BILDING OF THE FIRST WATER-PIPE IN ORENBURG (1820–1830)
The search of evidences concerning the first events on centralized water supply development in the Orenburg town in the first half of the XIX century was carried out. The facts about hygienic prerequisites, the elaboration of the first models of artificial water-pipe and water-pump in Orenburg are presented. The participation of the governor, engineers, townspeople in realization of one of the engineer constructions is shown.
Key words:
water-pipe, water-pump, history, building in Orenburg.
References:
1. Gra, А. The first attempt to devices in Orenburg waterpipe / A. Gra// Works of ОSАC. — Orenburg, 1903. — Ed. XI. — V.10. — P. 50–63.
2. Dalley, S. Senacherib, Archimedes, and the water screw. The context of invention in the Ancient World / S. Dalley, Y.R. Oleson // Technology and culture. — Baltimore, 2003. — V.44. — № 1. — P. 1–26.
3. Love and east: Сompilation / comp. P.А. Koshel. — М.: "Moscow writer", 1994. — 444 p.
4. First waterworks [Electronic resource]. — URL: http://www.voda. realin.biz/ first vodoprovod. (17.09.2013).
5. Richkov, P.I. Topography of Orenburg Province / P.I. Richkov. — Ufa.: "Kitap". — 1999. — 309 p.
6. Economic condition of the urban settlements of European part of Russia //Works of ОSАC. — SPb, 1863. — Ed. XI. — P. 6
About this article
Authors:

Lyashenko I.E., Zheltova V.I.



Year:

2014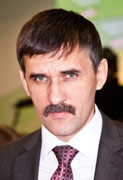 Editor-in-chief
Sergey Aleksandrovich
MIROSHNIKOV