Подача статей





Girina A.N.
ORGANIZATIONAL-ECONOMIC MECHANISM OF MANAGEMENT BY FORMATION OF NEW TRENDS IN THE REGIONAL ECONOMIC SYSTEM
Reviewed the existing trends in the development of the regional economic system. The organizational-economic mechanism of management of formation of new trends in the regional economic system implemented in stages presented.
Key words:
trends, management mechanism, the regional economic system.
References:
1. Girina, A.N. The transformation of the economic development trends of the regional socio-economic system in modern conditions / A.N. Girina // Bulletin of the Orenburg state University. — 2010. — № 13 (119). — S. 19–25 (0,8 printer's sheets).
2. The infrastructure of the market economy in Russia: peculiarities of formation, development factors, regulation [Electronic resource] — Access mode: http://diplomnie.com/publ/51-1-0-11511
3. Lapaeva M.G. Management of social-economic development of the region in terms of network economy / M.G. Lapaeva, I.N. Korabeynikov, E.N. Makeeva. — Orenburg: the Institute SEI OSU, 2009. — 268 p.
4. Tatarkin A.I. Evolution theories of placing of productive forces of Russia: historical-economic aspect / A.I. Tatarkin, V.A. Yatnow ; edited amended A.I. Tatarkin // Region in the new paradigm of the spatial organization of Russia. — M: CJSC "Publishing house "Economy", 2007. — P. 15–27.
5. Fedoryuk, P. Improving the organization of control / P. Fedoryuk, V. Nechaev, S. Mirenkov, S. Fedoruk // Agriculture: Economics and management — 1999. — № 3. — P. 19–24.
6. Ishchenko, M.M. Organizational-economic mechanism of managing heterogeneous socio-economic systems in the region / M.M. Ishchenko // Public administration. E-Bulletin. — 2012. — № 30. — P. 2.
About this article
Author:

Girina A.N.



Year:

2014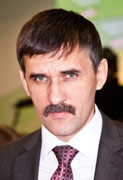 Editor-in-chief
Sergey Aleksandrovich
MIROSHNIKOV