Подача статей





Ostrovenko T.K., Grebnev G.D.
OPTIMIZATION OF THE ANALYSIS METHOD OF THE ECONOMIC SAFETY OF A BUSINESS AND ITS SUPPLYING WITH INFORMATION IN THE CONDITIONS OF THE POTENTIAL BANKRUPTCY
Methodical aspects of the analysis of the economic safety of a business in modern economics and a problem of its investigation, based on new approaches to informational sources of analysis with a view to the earlier diagnostic of financial crisis and potential bankruptcy of the debtors are revealed in this article.
Key words:
economic safety, exchange relations, imperfection of the analysis method of the potential bankruptcy, insufficiency of the information analysis base, ways of the mobilization of the economic safety stock, ways of the realization of the debtors financial position.
References:
1. The law of the Russian Federation "About the state strategy of economic security of the Russian Federation" dated by April 29, 1996 No. 608Access mode: http://www.scrf.gov.ru/documents/23.html
2. The resolution of the Government of the Russian Federation No. 498 dated by May 20, 1994 "About some measures for implementation of the insolvency law (bankruptcy) of the enterprises" Access mode: http://zakonbase.ru/content/base/3419
3. The resolution of the Government of Russian Federation No. 367 dated byJune 25, 2003"The rules of arbitration managing financial analysis". Access mode: http://www.arbitr-nsk.ru/index.php?option=com_content& task=view&id=29&Itemid=1
4. V.P. Mac-Mac.Enterprise Security service (organizational and administrative and legal aspects of activity). — M.:Bayard, 2003
5. Korotkov E.M. Belyaev V.A. Upravleniye of economic security of society//Management in Russia and abroad, No. 6, 2001
6. Bernstein A.A. Analysis of financial statements: theory, practice and interpretation: The lane with English / nauch. edition. Translation of the member correspondent of the Russian Academy of Sciences I.I. Yeliseyev, Hl. editor of a series prof. Ya.V. Sokolov. — M.: Finance and statistics, 2003.-624 with: silt. (A series on accounting and audit). ISBN 5-279-01555-5
7. The federal law of 02.12.2013 No. 349-FZ "About the federal budget for 2014 and on planning period 2015 and 2016". Access mode: http://www.consultant.ru/document/cons_doc_LAW_158444/
8. Grebnev, G. D. Indicators of business activity of the enterprise in system of the complex economic analysis: abstract. thesis of Candidate of Economic Sciences/G.D. Grebnev. — Orenburg: Regional public institution, 2005. — 20 p.
9. Endovitsky, D. A. System of indicators of the analysis of business activity of managing Subject / A. Endovitsky, V.L. Lubkov, U.Ts. Sasin//the Economic analysis: theory and practice. — 2006. — No. 17. — P. 2-12.
About this article
Authors:

Ostrovenko T.K., Grebnev G.D.



Year:

2014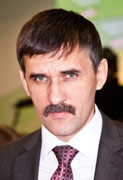 Editor-in-chief
Sergey Aleksandrovich
MIROSHNIKOV